Tsaluna or Druk Path Trek
Tsaluna or Druk Path Trek
Code TH-BT-081 • 11 Days •
Trip Duration: 10 Nights / 11 Days
Group size: 1-10+ Person
Ends in: Paro
Departure City: Paro
Max Altitude: 3750m. Aprox.
Activities: Trekking / Hiking / Sightseeing
Overview
Trip Information
The Tsaluna Trek also known as Druk Path Trek is a moderate, 4-5 days trek. This trek is ideal choice for those who wish to do both experience of cultural tour and short trekking in Bhutan. This trip features an in-depth cultural tour of the Bhutan's spiritual heartland, the central Bumthang Valley. The trek offers beautiful views as you cross the chain of mountains that separate the Paro and Thimphu valleys. This route is also famous for its spectacular rhododendron forests and wonderful high altitude lakes teeming with fish. There will be a number of temples and dzongs to visit on the way, and in the clear weather of late autumn and winter there are great views of the Himalayas.
You will also visit the many sacred sites of Paro, Thimphu and Punakha in the west before continuing onto the central districts of Trongsa, the birthplace of monarchy, and the Bumthang Valley, Bhutan's spiritual heartland featuring 7th century Jambay Lhakhang and Kurje Lhakhang with its rock imprint of Guru Rimpoche.
Itinerary
Day 1: Arrive Paro
The flight to Paro is one of the most spectacular mountain flights in the world, with a constantly changing panorama of some of the highest mountains on earth. Tibet Holidays representative will meet you at Paro airport. After lunch enjoy afternoon sightseeing around Paro, including a visit to the National Museum, Ta Dzong. This museum houses many religious relics, works of art and handicrafts offering a great orientation into Bhutan's historical and cultural past. Next, visit the Rimpong Dzong to see the painting of the great saint Milarepa, considered as the master of meditation by the Bhutanese and believed to have attained enlightenment in a lifetime. Dzong's are large monasteries and district administrative centres, which were once strategic forts. Afterwards walk to the beautiful cantilever wooden bridge still in use. Overnight at your hotel in Paro.
Accommodation:
3* Hotel
Meal:
Lunch & Dinner
Day 2: Hike to Tiger's Nest
After breakfast hike to Taktsang Monastery. The trail is broad and the walk of approximately 1.5 to 2 hours uphill takes you high above the Paro valley. The view of Taktsang Monastery built on a sheer cliff face 900 metres above the valley floor is a spectacular sight. The great Guru Rimpoche is said to have flown here on the back of a tigress when he brought the teachings of the Buddhist Dharma to Bhutan in the 8th Century. Nearby there is a teahouse where you can stop for lunch.
In the afternoon drive to the ruins of the 17th Century Drukgyel Dzong, an historic monument built by the Shabdrung to commemorate his victory against invading Tibetans in 1644. In fine weather the towering peak of the sacred Mount Jomolhari (7314m) appears as a stunning backdrop. On the return drive to Paro, visit 7th Century Kyichu Lhakhang, one of the 108 temples constructed by the Tibetan king Songtsen Gampo. Kyichu is built in a manner similar to the Jokhang in Lhasa. Overnight at your hotel in Paro.
Accommodation:
3* Hotel
Meal:
Breakfast, Lunch & Dinner
Day 3: Trek starts from Jele Dzong / 8km, 4-5 hours. 1090m ascent
Today is a short trekking day. The journey starts with a climb up to Jele Dzong. The trek trail ascends gradually up to the camp, and if the weather is clear Paro valley can be seen surrounded by snow capped mountains. Above the camp is Jele La (3400m) and Jele Dzong. There is also a Lhakhang containing a statue of Buddha Shakyamuni. Overnight at campsite. Altitude 3480m.
Accommodation:
Camping
Meal:
Breakfast, Lunch & Dinner
Day 4: Trek to Jangchulhakha / 10km, 3 – 4hours. 310m ascent, 50m descent
Begin with a one and a half hour climb and then ascend more gradually upwards. The trail takes us through thick alpine forests of rhododendrons. We will have fine views of Mt. Chomolhari and other snow capped peaks if the weather is right. We may hear some pheasants calling during the day. We may also see yak herders around your campsite. Overnight at campsite. Altitude 3770m.
Accommodation:
Camping
Meal:
Breakfast, Lunch & Dinner
Day 5: Trek to Tsaluna /11km, 5-6 hrs, 330m ascent and 310m descend.
The trail begins with a short climb and follows a ridge. From the top on a clear day, we get amazing views of the beautiful Mt. Jumolhari and other Himalayan ranges. After a short descent, we arrive at Jimilangtsho Lake (3,700m) and take lunch. Then, the trail descends further down towards Langrithang through fir forests. Overnight at Tsaluna campsite.
Accommodation:
Camping
Meal:
Breakfast, Lunch & Dinner
Day 6: Trek to Thimphu / 9km, 4-5 hrs / 800m descent
The trail passes through fir and rhododendron forests and follows a stream before reaching the Tsaluna Monastery, a sacred site of Guru Rinpoche from 8th century. Further down the trail is the Tsaluna Village with beautiful farms. Then we drive to Thimphu. Overnight at hotel in Thimphu.
Accommodation:
3* Hotel
Meal:
Breakfast, Lunch & Dinner
Day 7: Thimphu Sightseeing
Once a rustic village sitting in a broad, fertile river valley, Thimphu is today the nation's bustling capital. Enjoy a full day of sightseeing, including a visit to the National Memorial Chorten depicting the Buddhist faith in the form of paintings and statues. This temple was first initiated by the Third King as a protection from the negative elements of modernization, and as a monument to world peace. The Royal Queen Mother completed it as a memorial stupa for the Third King who passed away in 1972. Continue on to 12th century Changangkha Temple and Drubthob monastery housing the Zilukha Nunnery.
Other sites to visit include: the School for Arts and Crafts where students are taught the 13 types of Bhutanese art, The National Library housing the collection of Bhutanese scriptures dating back to the 8th century, the Traditional Paper Factory displaying the Bhutanese paper making process, and a fascinating replica of a medieval farmhouse at the Folk Heritage Museum.
If there is time, you may visit the nursing pen for the Takin, the national animal of Bhutan, and Tashichhodzong, 'the fortress of the glorious religion'. Initially erected in 1641 by Zhabdrung Ngawang Namgyal, it was rebuilt in the 1960s during the reign of Bhutan's third king in the traditional style, without plans or nails. Tashichhodzong houses some ministries, His Majesty's secretariat, and the central monk body.
If your visit to Thimphu coincides with the weekend, you can walk through the Thimphu Market to see the variety of food of Bhutan, including basket upon basket of fiery chillies, fresh cheese and a variety of fresh greens. In addition, many stalls contain Bhutanese handicrafts and household items. (This market is open only from Friday until mid Sunday). Overnight at your hotel in Thimphu.
Accommodation:
3* Hotel
Meal:
Breakfast, Lunch & Dinner
Day 8: Hike to Tango Gompa
It is a climb of 280m and takes about half an hour if you follow the steeper shortcut, or about an hour if you take the longer, more gradual trail. Lama Gyalwa Lhanampa founded the goenpa in the 12th century. The present building was built in the 15th century by the 'divine madman',Lama Drukpa kuenley. In 1616 Zhabdrung Nawang Namgyel visited Tango Goenpa and meditated in a cave nearby. The head lama, a descendent of Lama Drukpa Kenley, presented the cave to Zhabdrung, who carved a sandalwood statue of Chenresig, which he installed in the monastery.
Tango is the residence of an important young trulku (reincarnate lama) who is recognized as the seventh reincarnation of the highly respected fourth desi, Gyalse Tenzin Rabgye, whose previous incarnation passed away in 1830. Overnight at hotel in Thimphu.
Accommodation:
3* Hotel
Meal:
Breakfast, Lunch & Dinner
Day 9 : Drive to Punakha & Sightseeing
After breakfast, drive over the Dochu-La Pass (3100 m), which on a clear day offers an incredible view of Himalayan peaks before descending into balmy Punakha valley (about 3 hrs total driving time). The drive through the countryside affords a glimpse of everyday life in this most remote of Himalayan kingdoms. In the Dochu-La area there are vast Rhododendron forests that bloom in late April/early May covering the mountains in a riot of glorious spring colour.
Punakha was the ancient capital of Bhutan. On arrival, visit Punakha Dzong, built in 1637 by the Zhabdrung, the 'Unifier of Bhutan' as predicted by the great Guru Rimpoche (Padmasambhava). It is situated at the confluence of the Mo Chu and Pho Chu Rivers and is the winter headquarters of the Je Khenpo and hundreds of monks who move en masse from Thimphu to this warmer location. The three story main temple of the Punakha Dzong is a breathtaking example of traditional architecture with four intricately embossed entrance pillars crafted from cypress and decorated in gold and silver.
After lunch, enjoy a walk to Chimi Lhakhang, temple of the Drukpa Kuenly who is also known as the Divine Madman. He inherited the Divine Madman title since he revolted against the orthodox Buddhism in his time. He taught the people that religion is an inner feeling and it's not necessary that one should be an ordained monk. He is also considered a symbol of fertility and most childless couples go to his temple for blessing. Overnight at your hotel in Punakha.
Accommodation:
3* Hotel
Meal:
Breakfast, Lunch & Dinner
Day 10: Hike to Khamsum Yulley Temple / Evening Drive to Paro
In the morning drive to Yabesa village and hike to through rice fields and up to Khamsum Yueley Namgyal Chorten, built by her majesty the queen Ashi Tshering Yangdon Wangchuk. Perched high on a hill on the bank of the river, the Chorten houses paintings belonging to Nyingmapa Traditions. Take a picnic lunch on a picturesque riverside and drive towards Paro.
Accommodation:
3* Hotel
Meal:
Breakfast, Lunch & Dinner
Day 11: Final Departure from Paro
After Breakfast in the hotel, then drive to the airport to connect yout flight to onward destination.
Accommodation:
N/A
Meal:
Breakfast
Trip Map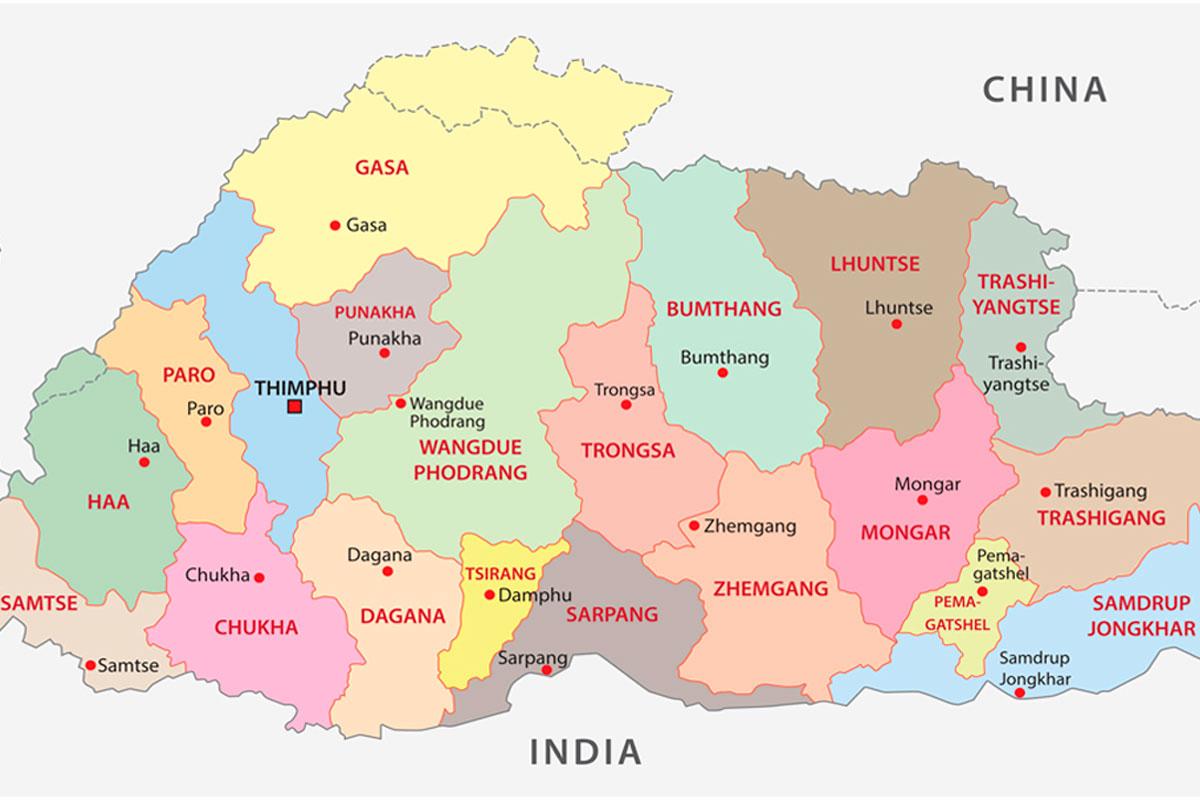 Trip Inclusion
What is included?
Arrival Departure Airport Transfer
All monument and sightseeing entrance fees
Private vehicle wherever required for ground transfer
English speaking local Bhutanese guide during trip
All Hotel / Guesthouse stays
All Camping equipment during trekking
Cook with kitchen crew along with Kitchen equipment
Freshly cooked full board western meal during trekking
Full board food while hotel / guesthouse stays prepared by hotel / guesthouse staff
Royalty & Taxes
Agency Service Charge
Bhutan Visa Fee
What is not included?
Any flight fare Personal expenses
Additional bar bills
Personal Expenses
Travel Insurance
Access Baggage Charge
Others which is not mentioned on the above inlcuded items.