Bhutan Dzongs & Monastery Tour
Bhutan Dzongs & Monastery Tour
Code TH-BT-078 • 6 Days •
Trip Duration: 5 Nighs / 6 Days
Group size: 1-10+ Person
Ends in: Paro
Departure City: Paro
Max Altitude: 3500m Aprox.
Activities: Sightseeing Tour / Cultural Visit
Overview
Trip Information
The most popular during your Bhutan Dzongs & Monastery Tour includes Paro Taktsang is the popular name of Taktsang Palphug Monastery (also known as Tiger's Nest), a prominent Himalayan Buddhist sacred site and temple complex, located in the cliffside of the upper Paro valley, in Bhutan. A temple complex was first built in 1692, around the Taktsang Senge Samdup cave where Guru Padmasambhava is said to have meditated for three years, three months, three weeks, three days and three hours in the 8th century. Padmasambhava is credited with introducing Buddhism to Bhutan and is the tutelary deity of the country. Today, Paro Taktsang is the best known of the thirteen taktsang or "tiger lair" caves in which he meditated.
The Guru Tshan-brgyad Lhakhang, the temple devoted to Padmasambhava (also known as Guru Tsam Gyad Lhakhang, "the Temple of the Guru with Eight Names") is an elegant structure built around the cave in 1692 by Gyalse Tenzin Rabgye; and has become the cultural icon of Bhutan. A popular festival, known as the Tsechu, held in honor of Padmasambhava, is celebrated in the Paro valley.
Bhutan Monastery Tour is the only way to explore the monastic life and also to Explore Buddhism throughout the country, It is a sense of Bhutanese Art and Architectural exploration. As the Bhutan is full of monasteries, your journey in Bhutan mostly covers visiting monasteries and its cultural sites.
Itinerary
Day 01: Arrive Paro by Druk Air
Druk Air flight to Paro is one of the most spectacular of all mountain flights. Whether flying along the Himalayan range from Kathmandu or over the foothills, each flight is a mesmerizing feat and offers exciting descent into the Kingdom. On arrival at the airport, received by our representative and then transfer to Thimphu, the modern capital town of Bhutan.
Accommodation:
Dzongs, Monastery or 3* Hotel
Meal:
Lunch & Dinner
Day 02: Thimphu Dzongs & Monastery Visit
After breakfast Thimphu sightseeing. Visit Trashichhoedzong,on the way to Punakha the beautiful medieval fortress/monastery which houses most of the Government's office and King's Throne room It is also the summer residence of Je Khenpo, the Chief Abbot. Then visit National Library which has vast collection of ancient Buddhist texts and manuscripts.
After that drive to Arts & Crafts School, famous for traditional thangkha paintings. Here you will see, students at work producing intricate design on cloth.
After lunch visit Handicrafts Emporium which displays wide assortment of beautifully handwoven and crafted products. Then drive to Memorial Chorten, the stupa built in the memory of Bhutan's Third King who is popularly regarded as Father of modern Bhutan. The paintings and statues inside this monument provide a deep insight into Buddhist philosophy.
Overnight at the Monastery or hotel in Thimphu.
Accommodation:
Dzongs, Monastery or 3* Hotel
Meal:
Breakfast, Lunch & Dinner
Day 03: Thimphu / Punakha ( 75 Km, 3 Hours ) Dzongs & Monastery Visit
After breakfast drive to Punakha with a short stop at Dochula pass (3,080m) stopping briefly here to take in the view and admire the chorten, mani wall, and prayer flags which decorate the highest point on the road. If skies are clear, the following peaks can be seen from this pass (left to right): Masagang (7,158m), Tsendagang (6,960m), Terigang (7,060m ), Jejegangphugang (7,158 m ), Kangphugang (7,170 m ), Zongphugang (7, 060 m ), a table mountain that dominates the isolated region of Lunana - finally Gangkar puensum, the highest peak in Bhutan at 7,497m.
Later visit Punakha Dzong, built strategically at the junction of Pho Chhu and Mo Chhu rivers in 1637 offering to godby Shabdrung Ngawang Namgyal to serve as the religious and administrative centre of the region, Punakha Dzong has played an important role in Bhutan's history. Damaged by four catastrophic fires and an earthquake, the Dzong has now been fully restored.
After that drive to Wangduephodrang visiting Dzong and local market. The district of Wangduephodrang is also famous for its bamboo products, slate and stone carvings.
Overnight at the Monastery or hotel in Punakha.
Accommodation:
Dzongs, Monastery or 3* Hotel
Meal:
Breakfast, Lunch & Dinner
Day 04: Punakha - Paro (125 Km, 4 Hours) Dzongs & Monastery Visit
After breakfast drive to Paro en route visit Simtokha Dzong, the oldest fortress of the Kingdom built in 1627, it now houses the School for religious studies.
Afternoon in Paro visit Ta Dzong, the National Museum of the Kingdom. Originally built as Watch Tower since 1967 it is serving as the National Museum of the country and holding fascinating collection of art, artifacts, thangkha paintings and Bhutan's exquisite postage stamps.
Afterwards, walk down a hillside trail to visit Rinpung Dzong. Built in 1646 by Shabdrung Ngawang Namgyal , the first spiritual and temporal ruler of Bhutan, the Dzong houses the monastic body of Paro, the office of the Dzongda (district administrative head) and Thrimpon (judge) of Paro district.
Overnight at the Monastery or hotel in Paro.
Accommodation:
Dzongs, Monastery or 3* Hotel
Meal:
Breakfast, Lunch & Dinner
Day 05: Paro Dzongs & Monastery Visit
After breakfast drive north of Paro valley to ruins of Drukgyel Dozng.From this fort Bhutanese repelled several invasions by Tibetan armies.Nearby visit traditional Bhutanese Farm House which offers good insight into lifestyle of local people.
Then take an excursion to Taktsang Monastery, the most famous of Bhutanese monasteries. It is said that Guru Rinpoche arrived here on the back of a tigress and meditated at this monastery hence it is called "Tiger's Nest". The excursion to monastery takes about 5 hours for round trip.
While return to Paro town visit en route Kyichu Lhakhang, one of the oldest and most sacred shrines of the Kingdom. Overnight at the Monastery or hotel in Paro.
Accommodation:
Dzongs, Monastery or 3* Hotel
Meal:
Breakfast, Lunch & Dinner
Day 06: Depart from Paro
After breakfast drive to the airport to connect flight to onward destination.
Accommodation:
N/A
Meal:
Breakfast
Trip Map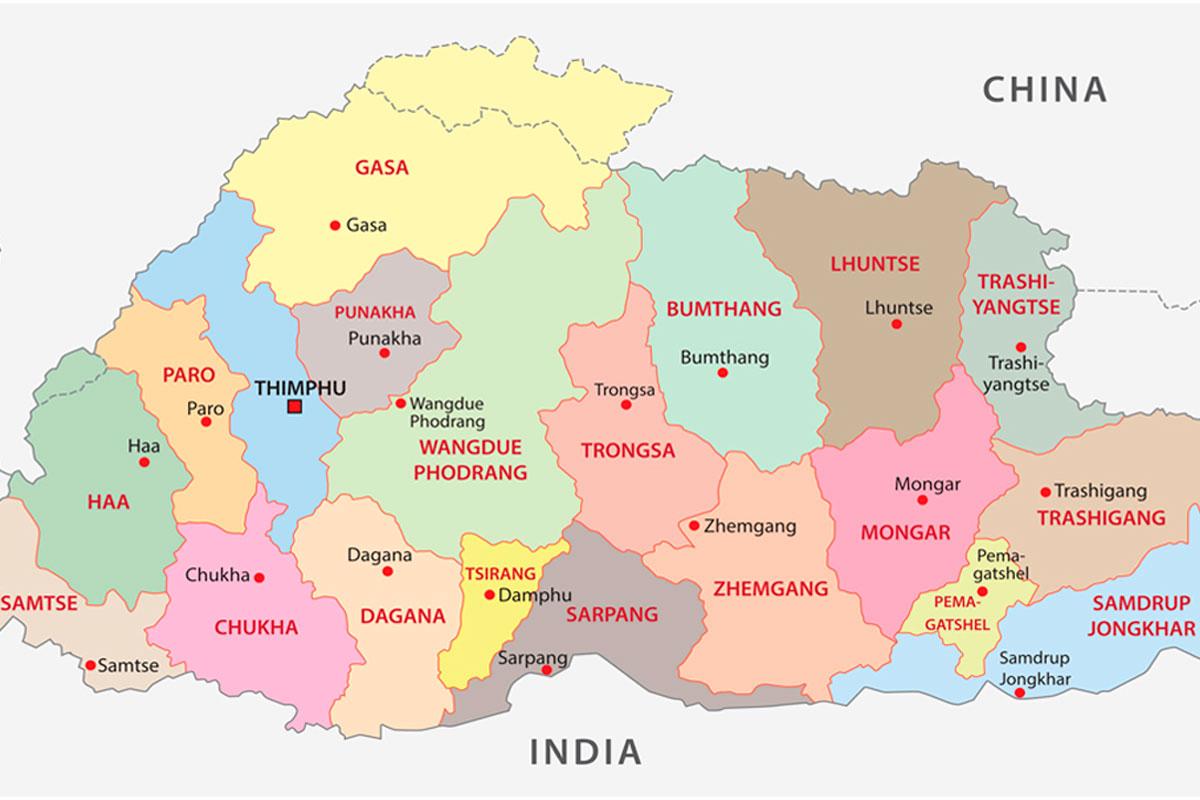 Trip Inclusion
What is included?
Bhutan Visa & Necessary Permit
Twin Sharing Accomodation at 3* Hotel
Full board food (Breakfast + Lunch + Dinner)
Transportation by 7 Seater Luxury Jeep / Van
All monastery & monument entrance fees
English speaking Local Bhutanese guide
Royalty & Taxes
Agency Service Charge
What is not included?
Any flight fare
Personal Expenses (Loundy, Telephone etc)
Bar bill
Insurance & Personal Expenses
Tipping & Donation
Others which is not mentioned on the above included items