Nepal India Buddhist Circuit Tour
Nepal India Buddhist Circuit Tour
Code TH-IN-087 • 13 Days •
Trip Duration: 12 Nights / 13 Days
Group size: 1-20 Pax. Max.
Ends in: Kathmandu
Departure City: Kathmandu
Max Altitude: 1300m
Activities: Pilgrimage Tour / Sightseeing
Overview
Trip Information
Buddhism is a world religion, which arose in 6th century BC, in and around ancient Magadha (modern Bihar), India. Buddhism is based on the teachings of Siddhartha Gautama who is commonly known as the Gautama Buddha (Enlightened One or Awakened One). It spread outside of Magadha starting in the Buddha's lifetime, and with the reign of the Buddhist Mauryan Emperor Asoka, spread across India and became the dominant religion. Buddhism is a path of practice and spiritual development leading to insight into the true nature of reality. Buddhist practices like meditation are means of changing yourself in order to develop the qualities of awareness, kindness, and wisdom. Buddhism has created an incomparable resource for all those who wish to follow a path — a path which ultimately culminates in enlightenment. The basic tenets of Buddhist teaching are straightforward and practical: nothing is fixed or permanent; actions have consequences; change is possible. It teaches practical methods which enable people to realize and use its teachings in order to transform their experience, to be fully responsible for their lives.
Why Nepal India Buddhist Circuit ?
We Tibet Holidays team are committed to abide by the concept of the 4 Noble Truths and the 3 Jewels (Buddha, Dharma, Sangha) via the 8-fold path to Salvation and Peace. The ultimate goal of This concept and program from our company is to show the golden path propounded by Lord Buddha. Its main objective is to bring the Buddhist followers all around the world together to preach the Buddha's philosophy of peace, love and non-violence. And to harmonise Buddha's Teachings in day to day life through Tourism Activities.
About Siddhartha Gautama (Buddha)
Siddhartha Gautama was the historical founder of Buddhism. He was also called Sakyamuni (sage of the tribe of Sakya). He was born in Lumbini, Nepal as a son of Shuddhodhana, the king of Kapilavastu and Queen, Mayadevi. Despite of his father's efforts to give him all comforts and pleasures, Siddhartha had left the palace in search of the Truth. Siddhartha attained enlightenment sitting under a pipal tree, now known as the Bodhi tree in Bodh Gaya, Bihar. Gautama, from then on, was known as "The Enlightened One"
About Nepal India Buddhist Circuit
Buddhist Circuit includes the places of all high significance holy sites of Buddhism, where Lord Buddha was born, attained enlightenment, preached first sermon and reached Nirvana. Buddhist circuit offers four major sites of pilgrimage: the Buddha's birthplace at Kapilavastu, the site where he attained Enlightenment Bodh Gaya, where he first preached at Sarnath, and where he achieved Parinirvana at Kushinagara and also It includes some important miracle sites: Vaishali, Sravasti,
About Lumbini, Kapilvastu, Nepal
Lumbin? is a Buddhist pilgrimage site in the Rupandehi District of Nepal. It is the place where, according to Buddhist tradition, Queen Mayadevi gave birth to Siddhartha Gautama in 623 BCE. Lumbini is one of many magnets for pilgrimage that sprang up in places pivotal to the life of Gautama Buddha; other notable pilgrimage sites include Kushinagar, Bodh Gaya and Sarnath.(The birthplace of the Buddha.) Siddhartha Gautama was born in the famous gardens of Lumbini. It is a UNESCO world heritage site & one of the four holy places of Buddhism. It is said in the Parinibbana Sutta that Buddha himself identified four places of future pilgrimage: the sites of his birth, enlightenment, first discourse, and death. All these events happened outside in nature under trees.
About Bodh Gaya- Bihar
The site of the enlightenment of Gautama Buddha. Bodhgaya is the place where Gautama Buddha is said to have obtained enlightenment sitting under a pipal tree (Bodhi Tree). It is a religious site and place of pilgrimage associated with the Mahabodhi Temple Complex in Gaya district of Bihar. Mahabodhi Temple Complex is a UNESCO world heritage site.
About Sarnath, Varanasi, Uttar Pradesh
Sarnath or Sarangnath is one of the most important Buddhist pilgrimage centers in India. It is also an important place for the followers of Jainism. Sarnath is situated 13Kms to north-east of Varanasi in Uttar Pradesh. It is the place where Gautama Buddha gave his first sermon to his five disciples named Kaundinya, Bashpa, Bhadrika, Mahanaman and Ashvajit after he attained enlightenment at Bodh Gaya (in present day Bihar). In the ancient Buddhist literature, Sarnath has been identified as Rishipatna and Mrigdava or Mrigadaya.Sarnath (also known as Isipatana) is a deer park where Gautama Buddha first taught the Dharma, and where the Buddhist Sangha came into existence. Sarnath is located 13 kilometers north-east of Varanasi. A number of countries like Thailand, Japan, Tibet, Sri Lanka and Myanmar, have established temples and monasteries in Sarnath in the style that is typical for the respective country. Thus visitors have the opportunity to experience an overview of Buddhist architecture from various cultures.
About Kushinagar, Uttar Pradesh
Kushinagar, a district in Uttar Pradesh, India, is one of the major Buddhist pilgrimage centers because it is the place where Lord Buddha is believed to have entered Mahaparinirvana (death). It was near the Hiranyavati River that Buddha took his last breath and was cremated at the Ramabhar Stupa. Located at a distance of 55 kilometers away from Gorakhpur, Uttar Pradesh, Kushinagar can indeed be a holy experience not only for Buddhist but also for all travel enthusiasts and historians Kushinagar is an important Buddhist site, where Gautama Buddha is believed to have attained Parinirvana after his death. The two places most frequently visited in Kushinagar are the Mahaparinirvana Stupa, which is built on the place of Buddha's Mahaparinirvana and the place of his cremation, which is 1.6 km away. Close to the Mahaparinirvana Stupa is located a 1500 year old Buddha-image of the Buddha as he attained Parinirvana. The Mahaparinirvana Stupa is surrounded by ruins of ancient monasteries.
Miracle Sites (4+1) of Buddha's Life
Lumbini: where Buddha perfomed a miracle by walking Seven Steps right after his Birth.
Sravasti: where Buddha performed a miracle by producing fire and water from his body at the same time.
Vaishali: where Buddha performed a miracle making a band of monkey to offer him honey and water.
Rajgir: where Buddha performed a miracle by subuding an angy elephant.
Sankasiya or Sankissa: where Buddha performed a miracle by flying to Tushita heaven to meet his mother and descending back.
Itinerary
Trip Map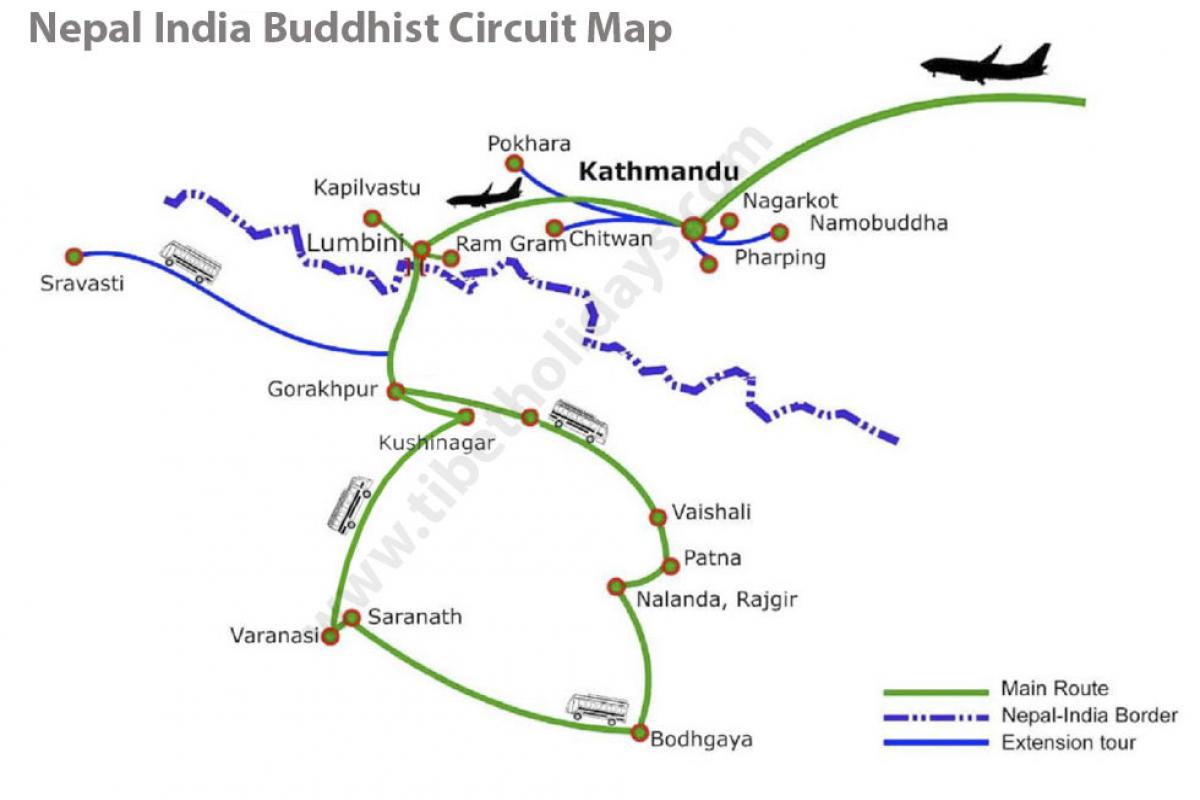 Trip Inclusion
What is included?
Arrival / Departure Airport transfer wherever required
Guided Sightseeing tours as per itinerary
All ground transfer by private Jeep / Van
Twin sharing basis 3* Hotels in Major cities
Best available Guest Houses in remote areas
Monastery stays if requiored
Daily breakfast
Buddhism Guide
What is not included?
Any international and domestic flight fare
Nepal and India Visa
Monument entry fee
Travel Insurance
Lunch and dinner
Others which is not mentioned on the abovei included items