Kailash Heli Tour Ex Kathmandu
Kailash Heli Tour Ex Kathmandu
Code TH-054 • 10 Days •
Trip Duration: 9 Nights / 10 Days
Group size: +1 Min
Ends in: Kathmandu
Departure City: Kathmandu
Max Altitude: 5600m
Activities: Sightseeing Tour / Kailash Trek
Overview
Trip Information
Kailash heli (Chopper) Toour is designed for those who want to travel in minimum time frame and also for those who are physically cannot undertake by walking or trekking and also for those who like to prefer luxury option to travel Kailash. So it is now one of the best option for all option and purposes. After massif eathquake in 2015, China closed the border after that this Heli tour option is the most popular and easy option to travel Kailash with minimum duration. There is 2 option to take the journey one starting from Kathmandu and the other starting from Lucknow. It is specially designed for Indian pilgrims, Who start from Kathmandu, could take blessing of Pashupatinath while starting from Lucknow will miss Pashupatinath as the route follows direct to Nepalgunj.
The heli journey to Kailash starts from Kathmandu to Nepalgunj then to Simikot by fixed wing flight. Simikot also known as Gateway to Kailash, from where the heli journey bigins until border, after that by luxury bus your Kailash journey will be completed.
Itinerary
Day 01: Arrive Kathmandu and transfer to Hotel.
Our representative will welcome you at airport and then you will be transfered to Hotel. It is advisable that it would be good to arrive mirning time at Kathmandu. Evening Trip briefing will be hosted for general information about your further yatra.
Accommodation:
Hotel
Meal:
Lunch, Dinner
Day 02: Morning Pashupatinath Darshan and Bouddhanath stupa, Evening flight to Nepalgunj
Today you have full day in Kathmandu for Puja at Pashupatinath, it is believed that you must have to have blessing of Pashupatinath before moving Kailash Yatra journey to be a successful Kailash yatra. So you will be taken to Pashupatinath temple for Puja in the morning time and after that a short tour to Bouddhanath stupa nearby. Evening fligh to Nepalgunj.
Accommodation:
Hotel
Meal:
Breakfast, Lunch, Dinner
Day 03: Fly to Simikot and Heli to Hilsa and then drive to Purang (4200m) / 2 hrs drive
Early morning you will be transfer to domestic airlines to take the flight to simkot with packed breakfast. Upon reaching Simikot airport take a Helicopter Flight to Hilsa, Fresh up at local guest house with tea/coffee . Then crossing Karnali bridge arrives to Chinese land. Drive to Purang (Taklakot). Before Purang have immigration formalities at Chinese custom office. Drive to Purang ( Taklakot).
Accommodation:
Hotel / Guesthouse
Meal:
Breakfats, Lunch & Dinner
Day 04: Rest at Purang (Taklakot) for Acclimatization
Full day rest day in Purang (Taklakot) for acclimatization purpose. You may do shopping at Purang market and rest .
Accommodation:
Hotel / Guesthouse
Meal:
Breakfast, Lunch, Dinner
Day 05: Drive Purang to Mansarovar (4500m) / 3 hrs
After breakfast drive to Mansarovar Lake. Before reaching Mansarovar Lake you see Rakshyas Tal from the way. Today is the day of lifetime as you have the first sight of Holy Mt. Kailash and holy lake Mansarovar. Have Pooja and Holy bath at Mansarovar.
(At Mansarovar yatris who want Mt. Kailash Parikarma with horses and porters will have to confirm our guide so that he can arrange all before starting the parikarm)
Accommodation:
Guesthouse
Meal:
Breakfast, Lunch, Dinner
Day 06: Drive to Yam Dwar. Start Parikrama to Diraphuk (4800m) / Drive 90km / trek 12km, 5-6 hrs
Morning drive near to Yama Dwar via Darchen. Here you will meet our yaks and yak men. We will load all logistics on yaks and start Parikrama. Visit Yama Dwar on the way. The First day of Kora is a gradual walking of 5-6 hours. From the way you could have Darshan of West face of Kailash. Today your night halt at Dirapuk. From Dirapuk you will have magnificient view of Kailash north face distance face to face.
Accommodation:
Diraphuk Guesthouse
Meal:
Breakfast, Lunch, Dinner
Day 07: Parikrama Over Dolma La Pass (5600m) to Dzutulphuk (4700m) / 22km, 8 hrs
Early morning trek uphill Dolmala Pass. It takes about 4 to 5 hours. After reaching top of the pass 5600 m then trek down to the valley floor. It takes another 4 to 5 hours. After cross Dolmala when you move down you see Gauri Kunda. This day is the longest and toughest day of Parikarma. So be prepared in mind accordingly.
Accommodation:
Dzutulphuk Guesthouse
Meal:
Breakfast, Lunch, Dinner
Day 08: Parikrama Ends then drive to Purang and then Drive to Hilsa if weather good heli to Simikot
Today is last day of Parikarma. After breakfast you trek down of 10 kms with the winding gradual track and arrive at the place called Chongdo. Our transport will pick up you and drive to Purang. Before moving towards Purang you will have Mansarovar lake parikarma by drive. After reaching back to Hilsa, if the weather permits you will be transfered by heli to Simikot same day if not then need to stay at Border, Nepalside.
Accommodation:
Guesthouse
Meal:
Breakfast, Lunch, Dinner
Day 10: Final Departure
Until your airport reporting time, you could have shopping or take a rest at Hotel then you will be transfred to airport to connect your flight to Home.
Accommodation:
Hotel
Meal:
Breakfast, Lunch, Dinner
Trip Map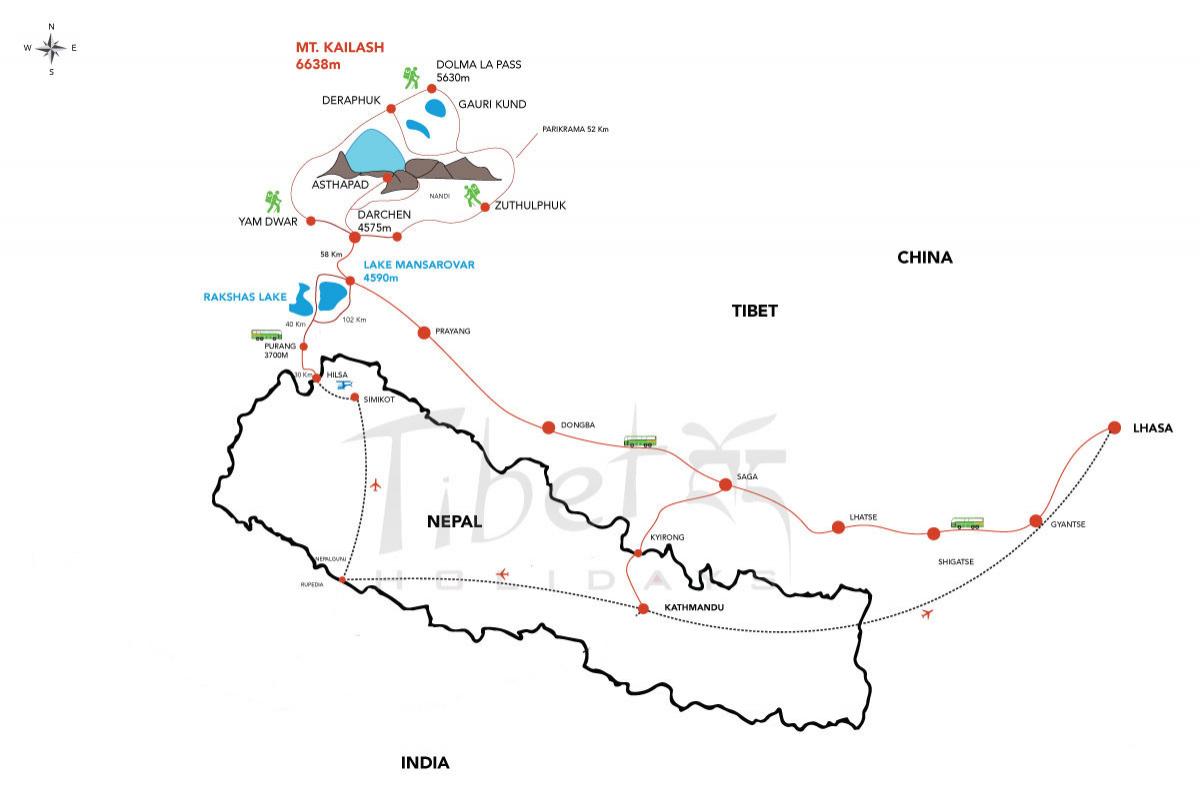 Trip Inclusion
What is included?
All necessary Tibet Permit and Local entrance fees in Kailash region
Tibet visa and restricted area permit of Simikot region and DDC Charge
02 Nights accommodation with breakfast, lunch & dinner [Pure veg. Meals] using in Kathmandu in sharing basis in 5 Star Hotel
01 Night accommodation with breakfast, lunch & dinner [Pure veg. Meals] using best available hotel in Nepalgunj in sharing basis.
Accommodation in Tibet with breakfast lunch & dinner [Pure veg. Meals] using Guest Houses in sharing basis as mention above
Mineral water throughout Kailash Yatra.
Kathmandu airport arrival and departure transfers by AC Coach.
One half-day Kathmandu sightseeing covering Pashupatinath & Budanilkantha by coach.
Kathmandu / Nepalgunj / Simikot / Nepalgunj / Kathmandu transfer by Air.
Simikot / Hilsa / Simikot by Helicopter.
In Tibet, land transfer by luxury bus.
Supporting truck to carry luggage, food, equipment etc.
Yak & Yakmen for trekking equipment and food supply during Kailash Parikarma.
Highly qualified and experienced Vegitarian Kitchen Crew.
Sherpa supporter for Kailash Parikrama
Ground Handling crews during flight, Helicopter operation
Complimentary Down Jacket, Duffel bag and Small hand bag for Important belongings.
What is not included?
International Flight Airfare.
Airport Tax.
Conservation & National Park Fees.
Domestic airfare (Insurance Surcharge + Fuel Surcharge).
Emergency rescue.
Entrance fees & Guide if any. (Guide costs INR.2000 or US$30 per day).
Expenses due to the situation beyond our control (Such as; landslides, natural calamities, road blockade, political disturbance, flight cancellation etc.)
Expenses of personal Nature
Medical expenses
Tips and Gratuities ( Expected )
Visa Fee US$ 25 for 15 days and 40 US$ for 30 days (Indian Nationality FREE / SAARC 1st Time FREE Visa). ( Voter Card or PP is mendatory for Indian air passengers)
Others which is not mentioned on the above included items.