Simikot Limi Valley Kailash Trek
Simikot Limi Valley Kailash Trek
Best price guaranteed
Cancellation protected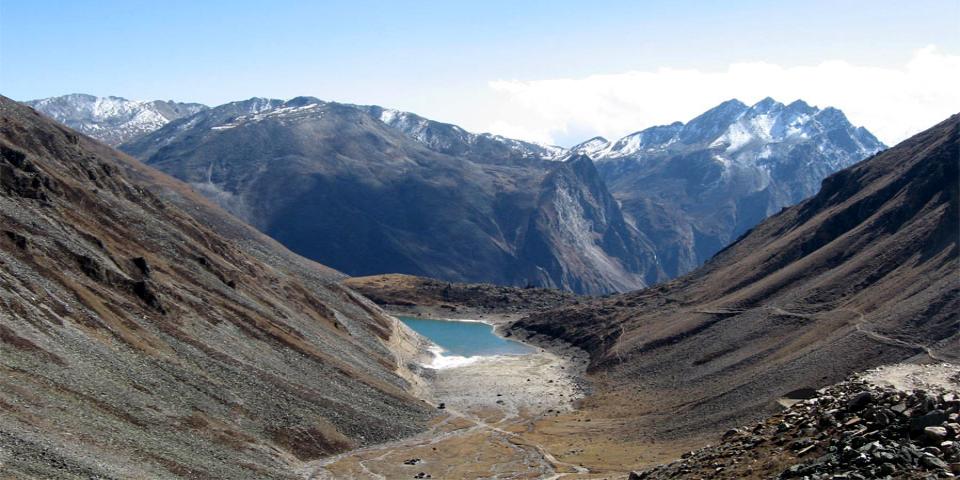 Humla's snow capped mountains; lush valleys, unique Trans-Himalayan plateau, rocky cliffs, quiet lakes, long streaming rivers andabundance of wildlife are major attractions for visitors. Simikot is the gate way of Mt. Kailash.The way leads along with mighty Karnali River until getting Kermi. From Tsongsa we enter for Limi valley and after crossing Nyalo pass we are inside Limi valley.
Halji Gompa is located in the Limi valley in Humla , the most remote district in the Himalayas of Northern Nepal. Also known as Rinchenling Gompa, Halji Gompa was constructed by a Tibetan Buddhist, Rinchen Zangbo in the 10th Century AD with support from a Malla King of Sinja. It is thought to be the first Gompa within the boundaries of what is today modern Nepal. For centuries this Gompa stood as a cultural and religious centre for three villages in the Limi Valley. Previously the Gompa belonged to the Sakya sect but later changed to the Digung Kagyu sect because of its affinity with the Gyang Drag Gompa at holy Mt. Kailash. This 1000 year old Halji Gompa lies in the middle of the village of Halji at an altitude of 3660 meters. The village is set in an exotic landscape surrounded by hills with the Limi River running through the valley.
Accomodation
You will be staying at 3 star hotel at Kathmandu on our recommendation, Hotel Siddhartha at Nepalgunj. All hotel has clean and private bath, hot and cold water shower and other required amenities. There will be camping during trekking period about 6 nights. Our camping tents are well maintained two men tents for group members, dining and kitchen tents along with kitchen table and other necessary equipements. Once you arrive Simikot the starting point of trekking. You will be staying at newly stablished hotel/guesthouse with modern amenities if required.
Altitude Problem and Physical Fitness Required
Trekking from Simikot to Kailash requires 4500m pass along the way while it requires 5600m pass during Kailash circumambulation trek, physically fit along with prior experience at trekking in moderate trail is recommended. It will help if you have previous trekking experience preferably in high altitudes. It is also important that you have a positive attitude and a strong determination and will power. We also advise our guest(s) to consult their doctor for vaccination and other medical requirements before the trip. Regular exercise, jugging, stretching and medication or yoga may be good idea before taking the trip.
Meals
All meals during Simikot Limi Valley Kailash trekking will be taken care by us, Breakfast will be taken in the same place we stay the night while hotel stay in Kathmandu and Nepalgunj. Similar arrangements can also be made for dinner. Lunch will be taken en route to the next destination(s). It is advisable to budget USD10 to USD16 for lunch and dinner in a single day while hotel stay, No need who have taken AP basis package. Freshly cooked full board food will be served during trekking period, Breakfast and Dinner will be served at campsite and hot lunch will be served depending on possibility on the trail if not possible packed lunch will be served.
Recommended Clothing & Accessories
As the tempreture varies greatly between day and night (from Max. 20 degrees celcius to Min. -10 degrees celcius) one should prepare accordingly. Woolen gloves, Balaclava, Sun hat, Thermal wear, Water bottle, Woolen sockes, Personal Towel, Light and Warm parka Jacket, Sunglasses, Sun Cream, Torch with extra batteries, Muffler, Mask, Raincoat, Sweater, T-Shirt, Sleeping bag and comfortable walking shoes are recommended for Simikot Limi Valley Kailash Trekking.
Travel Insurance
Full travel insurance coverage for medicine, Helicopter evacuation, if in case of immergency, lost of belongings and trip cancilation is strongly recommended for Simikot Limi Valley Kailash Trek.
Best Time to Travel
Spring (April and May), Summer (June, July & Agust) and Autumn (September and October) is the best seasons for the Simikot Limi Valley Kailash Trek.
Trip Start Dates and Cost
Check available trip start dates and cost for Simikot Limi Valley Kailash Trek on the Fix Departure section or Please contact us for your customized departure date and cost.
Trip Map
Altitude Map