Lhasa Kailash Kathmandu Tour
Lhasa Kailash Kathmandu Tour
Code TH-TB-007 • 12 Days •
Trip Duration: 12 Nights / 13 Days
Group size: 1 - 20 Pax
Ends in: Kathmandu
Departure City: Lhasa
Max Altitude: 5600m
Activities: Sightseeing/Tour/Trekking
Overview
Trip Information
Lhasa Kailash Kathmandu Overland tour is one of the remarkable journey throughout, starting from the forbidden city Lhasa to Kailash via following ancient city Shigatse and Gyantse with visiting most of cultural sites in Central and Western Tibet. This is also an exploration of monasteries and fortress of Lhasa, Gyantse & Shigatse and the adventurous overland journey along the southern route to the sacred Mt. Kailash and a three-day trek around this fabled mountain are the major highlights of this trip. Leaving Lhasa we explore the ancient towns of Gyantse and Shigatse. Driving across the hypnotic landscape of the Tibetan Plateau brings us to Lake Manasarovar, our journey continues to Mt. Kailash where we complete a three day kora (trek) around this beautiful mountain. We then drive across vast Tibetan plateau before heading south to the Nepalese border and returning to Kathmandu. This trip offers a lifetime memories of stunning Tibet.
Overnight Halt Accomodation:
We provide best reviewed 3 star hotel in Lhasa, Shigatse and Saga and best available guesthouses during your trip to Kailash. There is some portion in Tibet where we could provide hotel such as at Saga, we provide newly built 3 star hotel, In Darchen We could provide well maintained guesthouse or It and 4* Hotel The Himalaya as per confirmation contract. with attached bath and some portion it is still remain remote area where only dormitory local guesthouse available. As Kailash Tour is adventure trip and pilgrimage, please do not expect fancy hotels with modern facilities. Some portion it is only available basic amenities such as Manasarover and During Kailash circumambulation trek and also in Khyunglung area of western Tibet.
Altitude Problem:
As you are travelling on the Tibetan pleteau over 4000m high terrain altitude symtoms may arise such as headach, loss of appetite, nausea, vommiting, sleeplessness, breathlessness and stomach desorder etc. We always provide consultation on altitude problem during your trip preparation with full information and also we prepare first aid kit and other equipement such as PAC (Portable Altitude Chamber) to prevent against AMS (Accute Mountain Sickness). All trips to western Tibet around Kailash region are not that much difficult in terms of adventure and comparing other high altitude expedition, Everybody could join in our tours but As the tempreture varries greatly between 20° centigrade to -10° centigrate one should prepare accordingly. One important note is if some one has problem of heart and longs or asthma need to consult with their doctor before undertaking trip.
Custom and Currency:
Chinese custom opens 10 AM to 6 PM Beijing time (Beijing time is 2.15 hrs ahead of Nepal time) we must need to be checked in between this time. Your all permit and visa will be arranged by Tibet Holidays and also our representative will assist you while border check in and check out. The Currency in Tibet is Chinese Yuan or RMB, The vallue of money as of today is USD 1 = RMB 6.5 and 1 RMB = INR 11 for Indian pilgrims. Money can be exchanged from our office which would be good to return if remained after trip or you could exchage at border with personal money changer. Note: you must need to exchage the remaining amount with the same person or agency from where you exchaged. ATM machine are available at Shigatse city, Gyantse and Lhasa. Now most of hotels accept USD and EURO in Tibet.
Itinerary
Day 01: Arrive Lhasa (3600m) and transfer to Hotel.
Whether you coming from mainland China or from Kathmandu, Nepal after your arrival at Lhasa, Our guide will be waiting to assist you at the airport with necessary permit to check in to Tibet. You will be cleared immigration formalities and then drive to your booked hotel at Lhasa city. Lhasa city is 65km far from the Gongar Airport.
Accommodation:
3* Hotel
Meal:
Dinner
Day 02: Full Day Lhasa Sightseeing
Today fully guided sightseeing will be commenced, Today first you will visit Norbulinka the summer palace of Dalai Lama and then Drepung Monastery one of the oldest Buddhist university and then Nechung Monastery and Evening Jokhang Temple.
Accommodation:
3* Hotel
Meal:
Breakfast, Lunch & Dinner
Day 03: Full Day Lhasa Sightseeing
Today another fully guided sightseeing of Potala Palace - The winter palace of Dalai Lama and Then Sera Monastery and Tibet Musium after that Evening walk arround Barkhor Tibetan Market.
Accommodation:
3* Hotel
Meal:
Breakfast, Lunch & Dinner
Day 04: Lhasa - Yamdrok Lake - Gyantse (3800m) Sightseeing - Shigatse (3900m) Drive / 361km / 8 hours
It is a scenic drive via Yamdrok Lake and Karola (5100m) pass. The drive follows first Karola pass then being Karola glacier and then through the bank of Yamdrok Lake. You could explore local Tibetan village and yaks and also You could witness Tibetan mastif dog along the way. Once you arrived Gyantse you will visit Kubum or Khumbum stupa and Pelchor Chod monastery after that it is a short drive toward Shigatse 90km ahead, time permiting you will have sightseeing of Tashi Lhungpo monastery or visit Next day morning.
Accommodation:
3* Hotel
Meal:
Breakfast, Lunch & Dinner
Day 05: Shigatse to Saga (4400m) / 390km / 7-8 hrs
Today drive toward Saga, It is small local Tibetan town, from here your Kailsh region tour will begin. After Shigatse you will have magnificient drive along side of Mt Everest in the south, Exploring Everest north face view you will reach Pelko Lake one of the beutiful lake along the way.
Accommodation:
3* Hotel
Meal:
Breakfast, Lunch & Dinner
Day 06: Saga - Paryang - Manasarover (4600m) Drive / 450km / 8 hours
Today the road follows toward Mayumla pass (4900m) before reaching Manasarover Lake. You will be witnessed grazing Tibetan Yaks and Sheeps along the way. After arriving Manasarover Lake you will have short walk on the banks of Lake and Explore Mount Kailash South Face.
Accommodation:
3* Hotel
Meal:
Breakfast, Lunch & Dinner
Day 07: Visit Chiu Monastery / Manasarover Circumambulation on vehicle 90km / Drive to Darchen (4700m) / 60km
Morning we will visit Chiu monastery overlooking Mansarover. It is good place to have full view of entire Mansarover Lake too. Day time you be taken for Mansarover circumambulation which is 90km. The road is not paved but it is comfortable on the pleteau. The Mansarover circumambulation tour gives you a different kind of Kailash faces views. And evening we will drive to Darchen food of Kailash for the night stay.
Accommodation:
Guest House (4 bed Dormitory)
Meal:
Breakfast, Lunch & Dinner
Day 08: Drive to Tarboche 12km, then trek to Diraphuk (4800m) / 12km / 6 hrs
After breakfast today journey start from Darchen to start Kailash trek, We first drive around 12km to Tarboche, And then from Tarboche the walking on foot starts for 12 km toward Diraphuk. From Diraphuk the Kailash back face will be visible as a face to face.
Accommodation:
Guest House (twin Sharing)
Meal:
Breakfast, Lunch & Dinner
Day 09: Trek Over Dolma La Pass (5600m) to Dzutulphuk / 23km / 8-9 hrs
Today is the toughest day for all Kailash pilgrims. Dolma la stands at 5600m altitude. You will be started your hiking toward pass quite early around 4 AM in the morning in order to get success the pass on time and also today you have quite long way with up and steep down trail. After Dolma La pass the way follows steep down toward Khando Shanglam valley and then you will move forward toward Dzutulphuk for the night.
Accommodation:
Guest House (4 bed Dormitory)
Day 10: Trek Ends at Mani Wall / 2.5 hrs and Further Drive to New Dzongba or Paryang (4400m / 250km / 5 hrs)
After 2.5 hrs trekking from Dzutulphuk to Mani wall, You will be picked up from Mani wall by vehicle. After short rest and lunch at Darchen, We will drive following the same route toward New Dzongba or Paryang for the night halt.
Accommodation:
Hotel (Twin Sharing)
Meal:
Breakfast, Lunch & Dinner
Day 11: Dzongba or Paryang to Kyirong (2800m / 340km / 7 hrs)
From Dzongba or Paryang the road follows same until Saga and Pelko lake. After that you the road will be seperated toward border town Kyirong and it is 60km far to reach exact border location the Rasuwagadhi.
Accommodation:
Hotel (Twin Sharing)
Meal:
Breakfast, Lunch & Dinner
Day 12: Kyirong - Rasuwagadhi Border - Syabru - Kathmandu (1300m / 180km / 7-8 hrs) - Trip Ends or Extend your Nepal Program
Today a short drive toward Border immigration point, From here all Tibetan guide and driver will say you good bye after immigration formalities. You will be checked in Nepal side and have visa for Nepal all will assist by our border representative, after luch you will have drive toward Kathmandu. The road toward kathmandu some portion is bumpy but overal it is good countryside road. As the road follows from Langtang national park you could explore local typical Nepalese villages and people along the way. After reaching Kathmandu, A small cultural dinner will be hosted by Tibet Holidays for celebratiion.
Accommodation:
N/A
Meal:
Breakfast, Lunch & Dinner
Trip Map
Trip Inclusion
What is included?
Airport pick up and drop
All necessary Tibet permit
All sightseeing tours as per itinerary
English speaking local Tibetan guide
Transportation by luxury Jeep / Van / Bus as per group size
Locan entry permit and local transfer in Kailash
Yak and yak man for Kailash Kora circumambulation
All hotel and guest house stays
Full board food from/to Saga
Kitchen crew around Kailash for hygenic food preparation
Juices and Mineral waters
Oxygion, First aid kit for altitude problem
Wages and insurance for crews
What is not included?
Any international and domestic flight or train fare
China visa or Tibet visa
Photography charge
Personal expenses and travel insurance
Extra beverages other than specified on package
Others which is not mentioned on the above included items
Reviews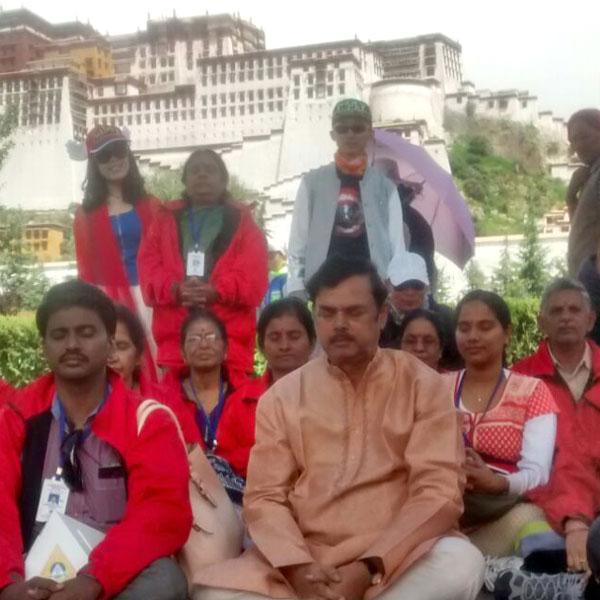 Pema, I am so happy for your great arrangement at Kathmandu, Lhasa, Mansarover and entire Kailash yatra for my group in 2016. Guide was great, Hotels are well arranged, Kitchen crews are fabulous and food preparation were great and delicious. I m happy with your personal care. A memorable yatra with you and entire team of Tibet Holidays!
Kanchi Raghuram, Tirupathi, AP, India
---