Humla & Nyinba Cultural Trek
Humla & Nyinba Cultural Trek
Code TH-065 • 13 Days •
Trip Duration: 9 Nights / 10 Days
Group size: +1 Min
Ends in: Kathmandu
Departure City: Kathmandu
Max Altitude: 3800m
Activities: Sightseeing / Trekking / Hiking
Overview
Trip Information
Humla itself is one of the wonderland in the world also called hidden valley surrounded by snow caped mountain and the Nyinba people in the norther part are ethnic Tibetan people with unique culture and the Raling monastery one of the most religious and old monastery in the region holds histiry of 7th century. This trip Humla and Nyinba Cultural trek includes a sense of cocktail trek of Religious, Cultural, heritage and Wilderness.
Accommodations
Hotels in Humla are basic, These days there is couple of tourist standard hotel and guest houses have been built in Simikot. After that either you choose home stay or prepare camping trek because most of places are remote and no guest house available.
Meals
A variety of meals are available in most hotels the most popular being Indian, Chinese, and the more common continental food in Simikot in your Hotel or Guesthouses. The best advice is to ask the hotel and restaurant to recommend what is fresh and in season. For the actual trekking days, our company will send wide assortment of food. We will be provided 3 meals a day breakfast, hot picnic lunch on the way, and dinner at the campsites with evening tea and snacks. Tibet Holidays trekking cooks are well trained and can whip up delicious meals at any altitude. Food are basic in homestay trek, It is prepared by house mother and it is mostly local organic food.
Physical Fitness
Trekking in Humla is physically demanding because of the distance and abrupt changes in elevation. Depending on the day of the trek, you will have to walk for an average of 3-5 hours covering a distance of around 10-15 kilometers daily to reach the campsites. Most of the climbs run through deep forests on rocky trails and sometimes the trails traverses through wet mud where you need agility to hop between round river stones. But if you have experience walking long distances with a back pack and you do not have history of knee pains on descents, it should not be difficult for you.
Best Time to Take the Trip
Spring (February to May) and autumn (September to November) are the best time for touring and trekking in Humla. Humla observes its biggest festivals during February to April such as the biggest on Mani festival falls on in February.
Luggage Weight Restrictions
Domestic airlines for Kathmandu to Nepalgunj sector has a 20kg weight limit for checked luggage and another upto 7/8 kg weight limit for carry-on luggage on their flights. While for Nepalgunj to Simikot sector has a up to 12 kg weight limit for baggage and 5 kg hand bag is allowed. carry-on bags are restricted to one piece, and the size should not exceed 17" x 13" x 8".
Packing List
The packing list has been created with the objective of getting maximum comfort with minimum possible weight. Please bring only what is necessary, as this will be helpful to you and the field staff.
Daypack
Duffel bag for storing gear(s) (if not weatherproof, bring lg. plastic bags)
Warm sleeping bag (negative 8-10 degrees centigrade)
SM first aid kit (blister kit with specifically 2nd skin, aspirin &/or ibu, cough drops, tape)
Headlamp
Camera and extra batteries
2-liter water bottles (if you bring a camelback, bring a nalgene, also)
Water purification tablets (iodine or chlorine to carry in daypack)
Insulated drinking mug
Lightweight toiletries (travel size shampoo, soap is best for trekking)
Sunscreen and lip screen
Small towel
Suggested clothing list
Down parka, Gore-Tex shell and pants, Warm fleece jacket, Comfy trekking boots (we like lowa), Lightweight shoes, 4 pair of trekking socks, 2 long sleeve capilene shirts, 2 capilene bottoms (mid and heavy weight), 2 trekking shirts (non-cotton is best), Trekking pants (zip off shorts are better), 1 pair of shorts, 1 bandana, 1 pair of winter gloves (ie: ski), 1 pair of lightweight gloves (ie: fleece), Flip flops, Warm hat, Sun hat, 2 pairs of sunglasses
Miscellaneous Items
Anti bacterial wipes or lotion (for face and hands), 10 or so energy bars (we do provide 3 meals per day on the trek!), Prescription medications, Over the counter drugs for diarrhea, headaches and cold
Itinerary
Day 01: Arrive Kathmandu and transfer to Hotel
Once you arrive Kathmandu, Our representative will welcome you at airport and drop to Hotel
Accommodation:
3 star Hotel
Meal:
N/A
Day 02: Kathmandu Sightseeing and Evening flight to Nepalgunj
Today you will be taken to world heritage sites sightseeing in Kathmandu valley after breakfast. Our tour guide will deliver his knowledge about the monument and heritage, Evening you will fly to Nepalgunj which is 50 minute flight and drop to hotel.
Accommodation:
3 star Hotel
Meal:
Breakfast + Dinner
Day 03: Nepalgunj - Simikot Flight and Trek to Torpa / Vimuk (2900m) / 3 hrs
Today you will fly to Simikot with small twin otter air craft. Once you arrived Simikot you will our crew will be prepared for the trek, after Lunch you will have a short trek to Torpa Vimuk. Torpa Vimuk is popular for Meditation cave, Vimuk where Guru padmashamvava Guru Rimpoche meditated in 7th Century the cave can be explored still a live.
Accommodation:
Homestay / Camping
Meal:
Breakfast + Lunch + Dinner
Day 04: Trek to Samrmuthang (3200m) / 5 hrs
Today you will have trekking through green forest toward a magnificient plateau of Sarmuthang. It is a very peace and romantic place on the trail of wilderness. Sarmuthang means a yellow land in Nyinba language.
Accommodation:
Camping
Meal:
Breakfast + Lunch + Dinner
Day 05: Trek to Lungbuk via Lai Gonba (3030m) / 5-6 hrs
Accommodation:
Camping
Meal:
Breakfast + Lunch + Dinner
Day 06: Trek to Gyap Tso (3850m) / 5 hrs & Explore
Accommodation:
Camping
Meal:
Breakfast + Lunch + Dinner
Day 07: Trek to Raling Gompa Monastery (3550m) / 4-5 hrs
Accommodation:
Camping
Meal:
Breakfast + Lunch + Dinner
Day 08: Trek to Nyimatang (3010m) / 4 hrs
Accommodation:
Camping
Meal:
Breakfast + Lunch + Dinner
Day 09: Trek to Kharpunath (2300m) / 4-5 hrs
Accommodation:
Camping
Meal:
Breakfast + Lunch + Dinner
Day 10: Trek to Simikot (2910m) / 3 hrs
Accommodation:
Hotel / Guesthouse
Meal:
Breakfast + Lunch + Dinner
Day 11: Fly back to Nepalgunj then to Kathmandu
Accommodation:
3 star Hotel
Meal:
Breakfast + Lunch + Dinner
Day 12: Free day in Kathmandu
Accommodation:
3 star Hotel
Meal:
Breakfast
Day 13: Fly to Home - Final departure
Accommodation:
N/A
Meal:
Breakfast
Trip Inclusion
What is included?
Kathmandu - Nepalgunj - Simikot and VV flight ticket
Restricted area permit for Humla region
3* Hotel in Kathmandu and Nepalgunj on BB plan
Hotel or Guesthouse in Simikot on AP plan
All camping equipement
All kitchen equipement
Freshly cooked full board food
All Local entrance fees including DDC charge
English speaking local guide
Camping and Kitchen crews
Mule and mule driver for baggage, fuel and food supply
Airport pick up and transfers wherever required
Insurance for all crews
What is not included?
Nepal visa
Access baggage charge
Any international flight
Travel insurance of client
Evacuation cost in case of immergency
Others which is not mentioned on the above included items
Reviews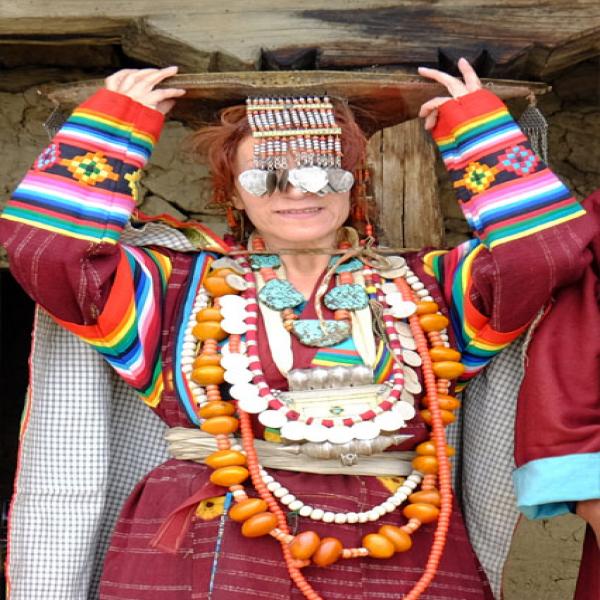 The trip that did in Humla in 2016 was my best trip. I stay in Pema's home with she's family and I met with this nice people. It was really special moments for me. Thanks to Pema for this opportunity. Also thanks to Pema for treating like a sister to me while im tripping. I hope we come across again my another trip.
Hacer Aydin, Izmir, Turkey
---