Sikkim Bhutan Motor Bike Tour
Sikkim Bhutan Motor Bike Tour
Code TH-BT-083 • 13 Days •
Trip Duration: 12 Nights / 13 Days
Group size: 06 - 20 Pax
Ends in: Siliguri
Departure City: Siliguri
Max Altitude: 3500m
Activities: Motor Bike Adventure
Overview
Trip Information
A thrilling self driving adventure over Indian and Bhutanese highway on motor bike, combining two exotic and magnificient Buddhist destination in eastern Himalaya Sikkim and Bhutan. This challenging motorcycle expedition starts from Darjeeling and enters into Bhutan through Phunetsholing. Riding through the manicured tea gardens to the hill-top town of Darjeeling which still has a British time charm is the initial excitements which goes deeper exploring people, culture and nature. After a day of sightseeing around Darjeeling ride to Gangtok the capital town of Sikkim. In Sikkim visit the famous Rukmtek Monastery - seat of the Black Hat sect of Tibetan Buddhism. From Sikkim, ride to Bhutan which is the the last Himalayan Buddhist Kingdom. In the 'land of the peaceful dragon,' your visit includes the valleys of Paro, Thimpu, the capital of Bhutan, and the picturesque Punahka and Wangdue valleys.
Types of Motor Bike
We provide two types of Motor Bike for Himalayan Motorcycle Expedition. Choice the following details, If you prefer some other model of Indian bike can be arranged on request.
1. Royal Enfield - 350 CC HP / 500 CC HP
2. Honda XL - 250 CC HP / 350 CC HP
What To Take
Please attention: As we have limited space available in our support vehicle. Hence, we request you to limit your baggage to 20 to 25 KG.
Protective Riding Gloves
Riding boots
Riding jacket & pants (Synthetic preferred)
Helmet
Rain suit
Riding goggles
Face mask
Eye drops
Sunscreen
Torch/Flashlight
Thermal underwear (Himalaya Tours)
Insect repellent
Driver's license
International Driving Permit
Travel insurance
Other Suggested
Weather/Temperature
Our most Himalayan tours start and end in New Delhi where the temperature can go up to 38-42°C in July/August & September with humidity. Temperature also varies in Himalayas & low altitude can get up to 30°C. However, they can fall below freezing at high altitudes in the mornings and during the nights.
Health, Fitness & Hygiene
Health
Please keep in mind that you need to be reasonably fit to participate in our tours.
IMPORTANT: Applicants are advised against participating in any Himalayan tours if they suffer from severe asthma, muscular disorders, respiratory or heart disorders, or any medical precondition which might be detrimental to the health of the participant on a tour which involves spending nights in high altitudes.
Please consult a doctor before booking a Himalayan tour specially High Himalayas over average riding on 4000 meters altitude.
Food & beverages
When travelling through India it is advised to carry your own drinking water that has been obtained from a reliable source (RO/UV water filter) or always drink branded mineral/packaged water. Water for drinking, brushing teeth or making ice should first be boiled or otherwise always use packed water.
Hygiene
Popular tourist restaurants and hotels will have clean facilities for you to use.
Communication
Most of the places we have communications in terms of internet (Wi-Fi), & calling facilities. For latest information pls contact us.
Telephone: Country code is 91
Mobile phone: Roaming agreements exist with most international mobile phone companies. Coverage is limited to major towns.
Internet: Wi-Fi is available in most hotels and cafes.
Itinerary
Day 1: Siliguri - Gangtok (120 Km)
We welcome you to the action-filled ride. We meet at the meetup point to roadmap discussion and a little chit-chat with fellow riders followed by our departure. We would be covering a decent stretch today so keep right pace to reach on time. The roads might be smooth, the constant honking and crazy traffic too.
Accommodation:
3 star hotel
Meal:
Dinner
Day 2: Gangtok - Lachung (130 Km)
After getting permits and having a full tummy breakfast, we will ride forward on the hilly curves towards the Lachung. Keep the eyes on the road while we ride along the most majestic waterfalls as well as the K2 peak from the Tashi Point. Reach the beautiful town to be greeted by the blue sky.
Accommodation:
Guest House
Meal:
Breakfast, Lunch & Dinner
Day 3: Lachung - Zero Point - Gangtok (230 Km)
Today, we would leave the green lush green valley mountains & head towards panoramic 300 Km Himalayan view. The ride is curvy on this day moving towards a place which has bewitched eminent personalities including Mahatma Gandhi. You understand the reason why the place is called Switzerland of India, once you reach there.
Accommodation:
3 star hotel
Meal:
Breakfast, Lunch & Dinner
Day 4: Gangtok
Take the day off to explore the vibrant and lively city. Explore the city. The crew will lead you in the city of colours before lunch so we can proceed to renew your permits and bike permits to visit Eastern Sikkim.
Accommodation:
3 star hotel
Meal:
Breakfast, Lunch & Dinner
Day 5: Gangtok - Nathula - Zuluk - Phadamchen (185 Km)
We start early today to manage your photography session with the riding schedule as the route demands your commitments of long hours. Soon after we ride closer to the most recommended sight of India China border- Nathula Pass. After witnessing the border, we start descending towards Padmachey with the beautiful views of Mount Kanchenjunga. Finally reaching the famous hairpin turns Zuluk.
Accommodation:
Guest House
Meal:
Breakfast, Lunch & Dinner
Day 6: Phadamchen - Siliguri (110 Km)
After this refreshing week, we will ride back to the Capital city of India. Although the peaceful and well-maintained road, you would start missing your companions on this ride- river and the hilly curves. After this long riding day, we would meet at the Tea Spot to Celebrate.
Accommodation:
3 star hotel
Meal:
Breakfast, Lunch & Dinner
Day 7: Siliguri – Phuentsholing (158 Km)
Today, we are driving towards India - Bhutan Border town in the coach/car so that we reach there before afternoon & process the visa at Bhutan immigration. You will complete the stretch before you know it. We will complete the immigration procedure before we had dinner. If you have an urge for smoking, you can simply take a small walk to India for the last time. When you return, forget about smoking (Bhutan is no smoking Country).
Accommodation:
3 star hotel
Meal:
Breakfast, Lunch & Dinner
Day 8: Phuentsholing -Thimphu (170 Km)
Check the bikes and let us know any changes according to your riding style. After having Breakfast, we ride deeper into Bhutan, towards the capital city. We will proceed with immigration formalities if not completed yesterday. The Roads seems to have been designed by a 3 year's old on his artbook - curvy, zigzag and full of hilly blind turns. The Lush green surroundings make you feel good about your decision to gift yourself this vacation. The roads are as beautiful as nature; flawless and soothing to your soul.
Accommodation:
3 star hotel
Meal:
Breakfast, Lunch & Dinner
Day 9: Thimphu - Punakha (90 Km)
After having the breakfast, we depart for Gangtey. At times, the construction may push you for little off-road experience. The fun of the curvy and bumpy roads continues to bliss you with the tropical vegetation & beautiful sceneries of rural Bhutan.
Day 10: Punakha - Paro (130 Km)
We head towards the city of culture and festivity. The distance may sound short, but it is going to be the riders' day of fun - hill roads, hairpin curves of Dochu La Pass, & fog to add another level of the fun
Day 11: Paro - Tiger Nest – Paro (90 Km)
After enjoying sunrise of the river confluence, we are leaving for the Tiger's Nest. You might want to save energy for 1700 ft hiking to the Monastery. Your listlessness of 2 hours hiking goes away entering the Monastery. Afterwards, we head back to Paro to enjoy the sunset at the river bank. I hope you still have the energy to visit remaining 154 temples of Paro.
Day 12: Paro –Siliguri (315 Km)
On this day, we ride rigorous. We ride on the familiar terrains; firstly to Phuentsholing, later by evening to Siliguri. The smile would prevail noticing the small things missed before; a small sip of tea, locals smiling and so on. You would be happy to enjoy the curves on your bike but certainly unhappy to dive away from this beautiful country
Day 13: Departure Siliguri to Bagdogra Airport and fly to Home
It is time. Time to announce the closure of the trip and sy good bye, A short drive to Bagdogra airport to connect your flight to Home.
Trip Map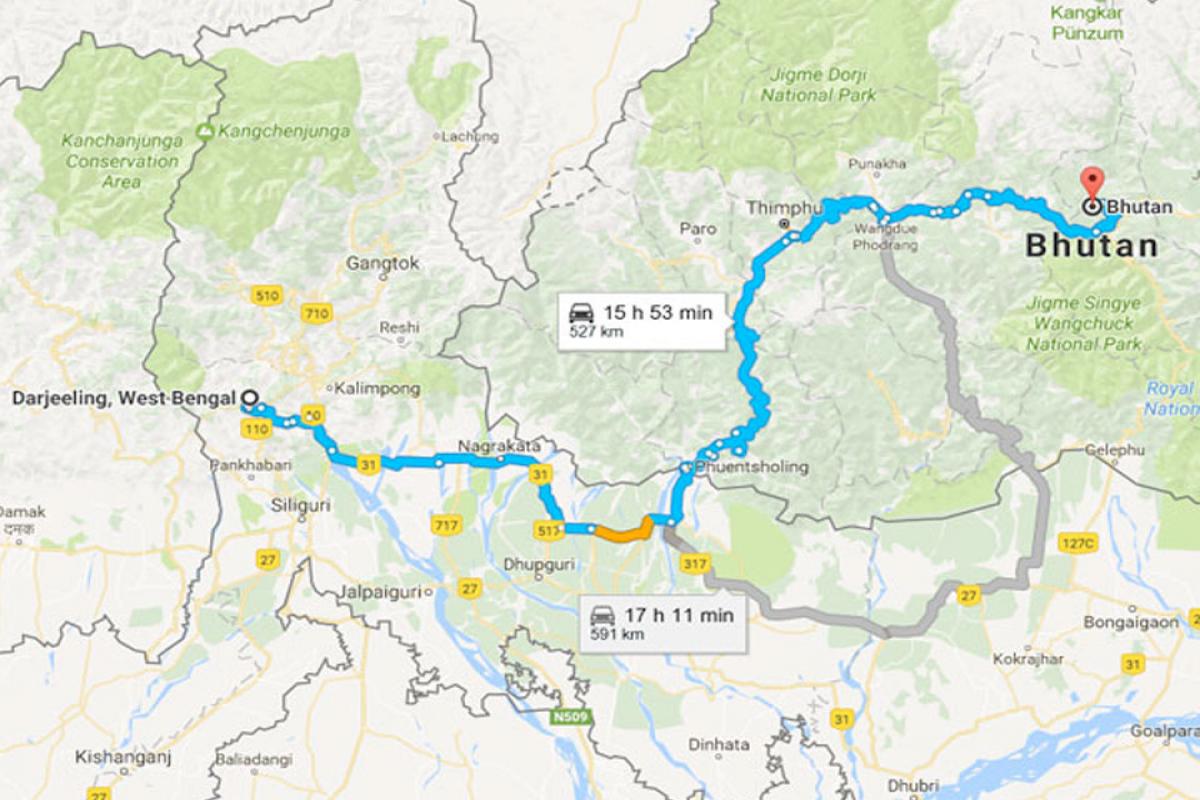 Trip Inclusion
What is included?
Arrival / Departure Airport transfer
All monument entrance fees
Motor Bike Hiring cost
Mechanic and his expenses
Support vehicle for in case of immergency
Sikkim inner line permit
Bhutan visa and permit
All hotel and guest house stays on twin sharing basis
3 times meal (Breakfast + Lunch + Dinner)
Local guide in Sikkim and Bhutan
Wages and insurance of crews
Government Tax, Royalties and Agency service charges
What is not included?
Any international flight
Indian Visa
Personal expenses
Fuel charges (Aprox $10 per day)
Others which is not mentioned on the above included items