Chengdu to Xining Overland Tour
Chengdu to Xining Overland Tour
16 Days •
Trip Duration: 15 Nights / 16 Days
Group size: 1 - 20 Pax
Ends in: Xining
Departure City: Chengdu
Max Altitude: 5000m.
Activities: Sightseeing
Overview
Trip Information
Chengdu is an important travel point, not only for this route but as one of the biggest and culturally richest cities in China. So it is worth to plan your time for exploring at least its main attractions and landmarks. Then the route starts on the famous northern road No. 318, leading to Xining. After Kangding, you turn right on the road to Garze, then to the extreme northwest of Sichuan Derge with Tibetan sutra wooden hand crafted printing press, Manigango etc. From there it enters Qinghai province and arriving in its first main city Yushu. From Yushu, the route goes northeast through its wildest and highest sections, then descends to Qinghai Lake, which is the largest lake in China and arrives in Xining.
Xining (ele. 2275m) is the capital of Qinghai province and is the largest city on the Tibetan Plateau. The city has an interesting mix of Chinese, Tibetans, Mongolians, Tu, Hui and Salar people. It is easily one of the most diverse cities in China. From Xining, you can take day trips out to Kumbum Monastery, Gonlung Monastery or Qinghai Lake.
Itinerary
Day 01: Arrive Chengdu:
Arrive at Chengdu either by flight or by train. Our representative will be waiting to pick you up from Airport of train station. Pick up and drop to prebooked hotel and free on your own.
Accommodation:
3 Star Hotel
Meal:
Breakfast
Day 02: Chengdu Sightseeing
Seeing Giant Pandas must be the first thing to do if you are a first-timer to Chengdu. As the dwelling home for mover 100 Giant Pandas, Chengdu Panda Base is the world-class one. Here you can get up close and cuddly with nature's cutest animals as well as take a glimpse of the tiny new-born panda babies if you visit in June ~ September. Remember to visit pandas in the early morning when they are most active. A happy journey with Giant Pandas usually takes half a day, and then you are advised to visit People's Park where local people always hang out there for tea-drinking, playing mahjong, dancing, chatting, etc. Definitely, it's a perfect place to experience Chengdu's laidback life. After that, take a short visit to Wenshu Temple, a peacefully hidden-in-city temple with strong Buddhist atmosphere. Besides, pay a visit in Jinli Old Street or Kuanzhai Alley to see Chinese traditional decorations and enjoy the authentic taste of Chengdu snacks.
Accommodation:
3 Star Hotel
Meal:
Breakfast
Day 03: Chengdu Sightseeing
Today another day in Chengdu to visit Leshan Giant Buddha to see the tallest Buddha Statue in the World. You can also see Giant Pandas and enjoy one day Panda Volunteer Program in Dujiangyan Panda Base. It's available to visit Giant Pandas and Mount Qingcheng – a holy Taoist mountain.
Accommodation:
3 Star Hotel
Meal:
Breakfast
Day 04: Day 01: Chengdu to Kangding 
Leave Chengdu at around 08:30 for Kangding, sightseeing along the way. generally, the arrival time in Kangding city is around 15:45; then, you can spend time walking around.
NOTE: if you like hot spring, you can go to Erdaoqiao, which is well known for its high quality hot spring.
Accommodation:
3 Star Hotel
Meal:
Breakfast
Day 05: Kangding to Xinduqiao to Tagong to Bamei
leave Kangding for Bamei, enjoy your time on the way for photos;
at Tagong area, visit Tagong Buddhism college; enjoy the grand view of Muya golden pagoda (self pay to go inside) and enjoy your time strolling around in the wide and open grassland behind the pagoda.
at Bamei, go and visit Huiyuan temple, which is built in 18th century.
Accommodation:
Hotel
Meal:
Breakfast
Day 06: Bamei to Ganzi
Early departure from bamei, bad road; on the way to Ganzi, visit Luhuo Linque monastery, which is only about 1.5 kilometers to the north of the town; at Ganzi, pay homage to Ganzi monastery.
Accommodation:
Hotel
Meal:
Breakfast
Day 07: Ganzi to Payul (Baiyu)
Drive through the Haizi mountain to Baiyu which is located by a river in a deep valley, on the way, lush forests and peaceful villages make your tour impressive. At Baiyu, visit the Baiyu monastery.
Accommodation:
Hotel
Meal:
Breakfast
Day 08: Baiyu to Derge
On the way to Derge, visit the Palpun monastery which is the largest and most important Kagyulpa monastery in Sichuan province. Following upstream of Jinshajiang river to Gato bridge, then swift to east to Derge town.
Accommodation:
Monastery Guest House / Hotel
Meal:
Breakfast
Day 09: Derge sightseeing + Derge to Manigango
erge is famous for its huge collection of Buddhism scriptures and books, esp. for its printing boards (wood made). Visit the Derge printing house and Gengqing monastery (Sakyapa order). After lunch at Dege, Climbing over the high Chola mountain (pass: 5050 meters), visit Xinlu Lake (a local holy lake) before arriving in Manigange. Manigange is a small town, which is located at the conjuntcture of three roads - one is the road Derge to Manigange, the 2nd is the road Manigange to Ganzi, the 3rd is the road Manigange to Shiqu.
Accommodation:
Guest House
Meal:
Breakfast
Day 10: Manigango to Dzochen village to Shiqu or Xiqu
At Dzochen village, visit the famous Dzochen monastery and Dzochen colledge of Buddhism study; 30 kilometers before arrival at Shiqu county town, visit Tara monastery of Gelupa.
Accommodation:
Hotel
Meal:
Breakfast
Day 11: Shiqu to Yushu (Jerkundo)
At a place 30km to the north of Shiqu town, visit the Sesuel monastery. Passing by Xiewu (a small village) and drive across a bridge over Jinshajiang river (the upper reach of yangtse river) to reach Yushu. Before arriving, visit Dangkha monastery (of Kagyulpa order) and Gyanha mani gallet (famous for its huge number of Mani stone pieces, it was said ther are more than 230 millions).
Accommodation:
3 Star Hotel
Meal:
Breakfast
Day 12: Yushu sightseeing
Visit Temple of princess Wencheng, Lheba gulley (3km further after Temple of Wencheng), Banchen monastery (Kagulpa order at Batang village in Yushu) and Jiegu monastery (built in 1398, belonging to Sakyapa order).
Accommodation:
3 Star Hotel
Meal:
Breakfast
Day 13: Yushu to Mardo
Passing by Xiewu village again and climbing over the Pass of Mt. Bayankara (4825m) from which the Yellow river stems. The Yellow river flows through Mardo town. The first cement bridge over Yellow river is at Mardo.
Accommodation:
Guest House
Meal:
Breakfast
Day 14: Mardo - Qinghai Lake to Xining
Today we will drive to Qinghai lake stop over at Qinghai lake to explore the lake and surrounding area then evening we will drive to Xining city.
Accommodation:
3 Star Hotel
Meal:
Breakfast
Day 15: Xining Day Trip to Delung and Kumbum Monastery
Today you will have short day trip to Delung and Kumbum monastery. After that free to exlore Xining Market.
Accommodation:
3 Star Hotel
Meal:
Breakfast
Day 16: Departure from Xining
After breakfast free until your train or flight time. Then our guide will assist you to drop toward station or airport.
Accommodation:
N/A
Meal:
Breakfast
Trip Map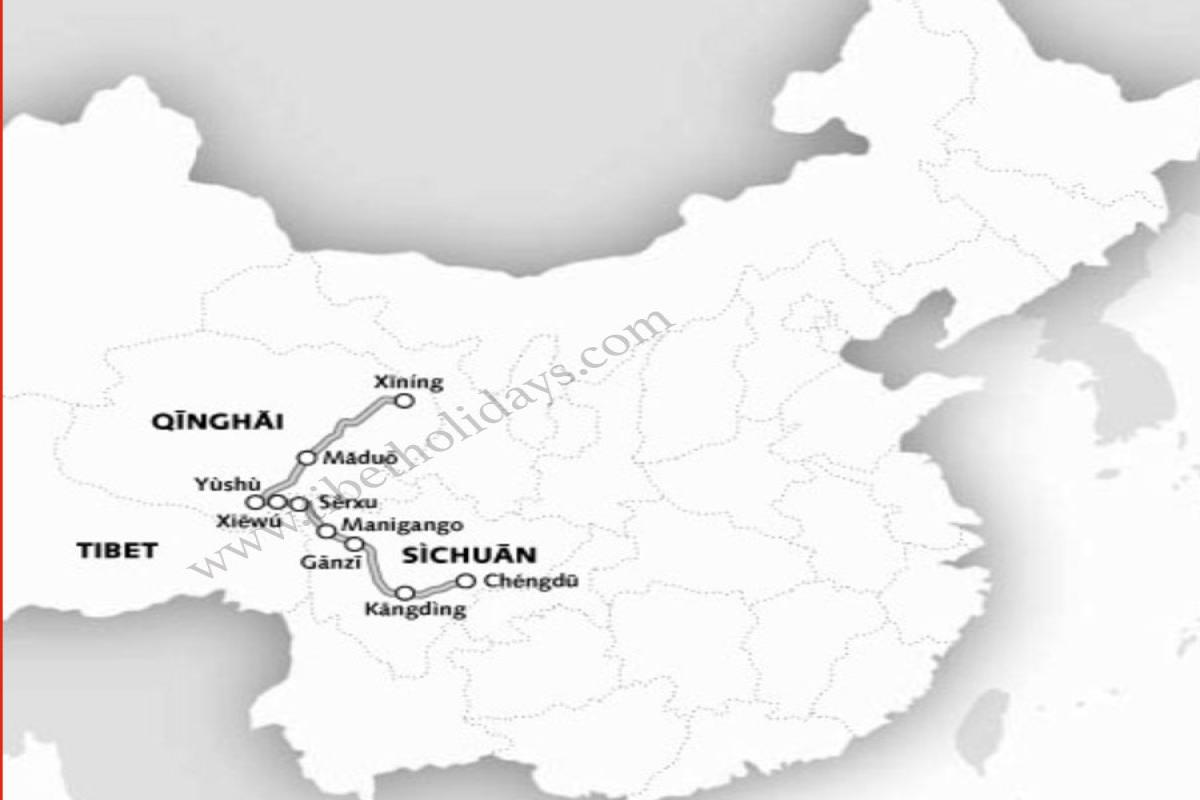 Trip Inclusion
What is included?
Twin Sharing hotel / Guesthouse stays as per itinerary
English and Chinese speaking local Tibetan guide
All monasteries and Manument entrance fees
Transportation by Latest model Jeep / Van / Bus as per group size
Meal - Daily breakfast
Wages and insurance of guide and driver
What is not included?
China Visa
Any international flight fare
Any domestic flight or train fare
Travel insurance of client
Lunch and dinner during the trip
Tipping (Expected) and donations