Guge Kingdom Khyunglung Valley
Guge Kingdom Khyunglung Valley
Best price guaranteed
Cancellation protected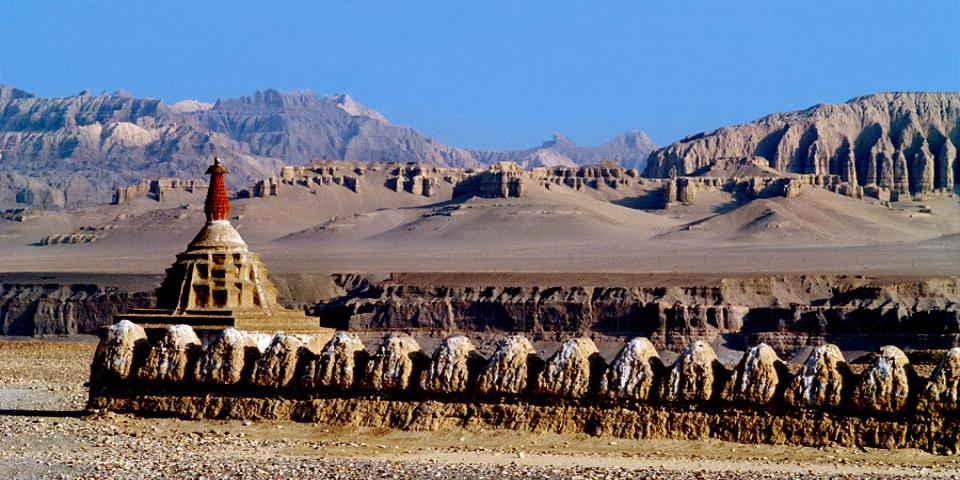 Guge Kingdom Tour
Tsamda (Zada / Tsada) county is the current name for the region which once was known as the Guge kingdom. It extends along the banks of the upper Sutlej from Khyunglung, southwest of Montser, as far as the Indian border, where the river flows into Kinnaur below the Sibkyi La pass. The valley of the Rashok Tsangpo, which gives access to Southern Ladakh and Spiti also lies within Tsamda, as does the valley of the Gyaza Kar-chu, through which the Uttarakashi district of Uttar Pradesh can be reached. The county capital is located at Toling, 180 km from Senge Khabab (via Namru), and 443 km from Purang. The new county name, Tsamda, is a contraction of Tsa (parang) and Da(wa-dzong), which are two of the most important sites within the upper Sutlej valley. The Tsamda area is characterized by the striking complex of canyons cutting through the red sandstone composite of what was once an ocean floor, all descending into the upper Sutlej River. For much of the year these canyon tributaries are dry, only becoming impassable or hazaradous in the monsoon. Those south of the Sutlej, such as the Manam Tsangpo, Dapa-chu, and Tophu-chu, rise in the Himalayas near the Indian border, which is heavily patrolled. The north is bounded by the Gar Tsangpo valley and southern slopes of the Gangtise Range.
Garuda (Khyunglung) Valley Tour
Garuda Valley (English name) or Khyunglung (Tibetan name) is an ancient complex of living caves and meditation caves set in the mountains on the north bank of the Sutlej River. (Sutlej River is the holy river which starts from Mount Kailash, Sutlej River in Tibet is called Langqen Zangbo, meaning "Elephant Fountain"). So the Garuda valley, you can find it about 35 km west of the Tirthapuri hotsprings and Tirthapuri gompa (monastery), which is nearby small town of Moincer (Menshi) in the modern Tibet prefecture of Ali/Ngari in the Tibet autonomous region of China. And there are more ancient ruins on the tops of the mountains above the Bon monastery of Gurigyam which are about 30 minutes road from Tirthapuri.
Trip Map
Altitude Map