Annapurna Mini Circuit Trek
Annapurna Mini Circuit Trek
Code TH-NP-004 • 15 Days •
Trip Duration: 15 Days
Group size: 1-20 Pax
Ends in: Kathmandu
Departure City: Kathmandu
Max Altitude: 5416m
Activities: Sightseeing/Trekking
Overview
Trip Information
Annapurna Mini Circuit also known as Annapurna Circuit Trek, Round Annapurna Trek, Annpurna Round Thorang La Pass is opened for trekker in 1977, It is a remote trek surrounded by Himalayas. During this journey you will be encircling whole Annapurna region enjoying flora, fauna, glaciers, waterfalls, rivers, pilgrimage sites, sunrise and natures gifts especially mountains. Annapurna Region is regarded as an ultimate trekking in Annapurna Region as you will be travelling a long distance and experiencing nature and people at their best.
Annapurna Circuit Treks begins from Kathmandu Valley and trailing counter clockwise to west, Beshi sahar to Marshyandi river gorge through green paddy fields, villages, waterfalls and many more. We trail towards Manang through different remote villages like Syange, Bharatang, Pisang, and many more. From Manang you will depart for Thorang La Pass to famous pilgrimage site Muktinath Temple, down to Jomsom then next day early morning you will have flight to Pokhara one of the scenic valley spot along with the magnificient Fewa Lake and enjoyful view of overlooking Annapurna and Dhaulagiri mountain range.
Accommodations
We will be staying at Hotel Marsyangdi in Kathmandu, Hotel Mt. Kailash in Pokhara and teahouses during the trek. All accommodations are on twin-shared basis.Single supplement will be served on request and will cost an additional USD 250 additional. Although single rooms are readily available in Kathmandu and the trekking regions at lower elevation, it might be difficult to find them at higher elevations.
Meals
During our Annapurna Base Camp Trek, we can enjoy authentic Nepalese food as well the more common international cuisine (Tibetan, Continental, Italian, Indian, etc.). Breakfast and dinner will be served from the tea-houses or from a lodge menu where we spend the night whereas lunch will be served on the way to the next destination. All meals will be provided during trekking while only breakfast will be available while in Kathmandu and Pokhara. There will also be welcome and farewell dinners for guests.
Physical Fitness for The Trek
This is moderate trek suitable for passionate walkers with the ability to walk at least 5-7 hours a day with a light day pack. Walking in higher altitudes is more physically demanding than walking in lower altitudes; however, if we are in excellent health with average physical fitness and have a positive attitude, self confidence and strong determination, we can accomplish this trek successfully. Exercising and jogging regularly for some weeks prior to the trip is a good idea to enhance our strength and stability. Past hiking experience would be an asset but no technical skill is required for this trip. Participants with pre-existing medical conditions such as heart, lung, and blood diseases are required to consult their doctor before taking the trip. It is also advised that you inform Tibet Holidays team about the medical condition before booking the trek.
Travel Insurance
It is a condition upon joining any of Tibet Holidays's trips that all clients be insured for comprehensive expenses that might incur due to medical issues or accidents (this includes air ambulance, helicopter rescue, and treatment costs). Please note that we don't arrange or sell insurance.
Acclimatization
This trek's itinerary is planned with a high degree of awareness of AMS (Acute Mountain Sickness). Going up at higher altitudes too fast causes a medical condition serious enough to result in death. The higher the altitude, the less oxygen will be in the air. For example, at an altitude above of 5000 m, there is 50% less oxygen than at sea level. Therefore, our body needs many days to adapt to an environment with less oxygen. This trip progresses with gradual ascent and does not reach a very high altitude; therefore, it is also an easy trek.
Best Time to Travel
Autumn (Sept. to Nov.) and Spring (March to May) are the best seasons for the Annapurna Base Camp Trek. The weather is sunny and warm with outstanding views. If you wish to avoid crowds and enjoy some alone time with nature then taking this trip during winter (Dec., Jan. and Feb.) could also be an option. However, the temperature during winter could be harsh for most guests. Trekking in the Summer or Monsoon seasons (June to Aug.) will be affected by rain but the Summer trek could be a boon for a keen botanist.
Trip Start Dates and Cost
Check available trip start dates and cost for Annapurna Base Camp Trek. For any assistance pleace contact us.
Itinerary
Day 01: Arrival in Kathmandu (1,300m/4,264ft)
After arriving in Kathmandu, our representative will pick you up from the airport and take you to our hotel. Today we will have welcome dinner hosted by Tibet Holidays in order to introduce your guide and trip briefing.
Accommodation:
3 Star Hotel
Meal:
N/A
Day 02: Kathmandu: Sightseeing and Trek Preparation
Today after breakfast we start a guided tour to several of the most historical and spiritual attractions in Kathmandu. Some of these landmarks are considered World Heritage Sites including the historic Durbar Square, the sacred Hindu temple of Pashupatinath, the famous 'Monkey Temple' (Swayambhunath) and Buddhist shrine (Bouddhanath) which is one of the largest stupas in the world. At noon, there will be a pre-trip discussion where we can meet our trek leader and other team members. Himalayan Glacier briefs us regarding our trek as well as provides us an opportunity to ask any questions we may have regarding our upcoming adventure. Overnight in Kathmandu.
Accommodation:
3 Star Hotel
Meal:
Breakfast
Day 03: Drive from Kathmandu to Syange (1100m/3608 ft): 8 - 10 hours
We begin our long drive to Syange early in the morning. En route we get to enjoy the countryside of Nepal with its green hills, winding rivers, terraced farms and of course the mighty Himalayas. Overnight in Syange.
Accommodation:
Tea House
Meal:
Breakfast, Lunch & Dinner
Day 04: Trek from Syange to Dharapani (1,960m/6,430ft): 7 - 8 hours
We enter Manang district after crossing a large bridge near Tal. The trail passes through barley, rice and potato fields; and the waterfalls continue to accompany us even today. We also pass through the village of Kodo before reaching Dharapani which is one of the biggest villages in the Manang valley. Overnight at Dharapani.
Accommodation:
Tea House
Meal:
Breakfast, Lunch & Dinner
Day 05: Dharapani to Chame (2,710m/8,891ft): 5 - 6 hours
Today we negotiate a few steep forested ridges along with several landslides on route to Chame. We should not forget to look up though, as we will be greeted with remarkable views of Lamjung Himal, Annapurna II, and Annapurna IV (7,525m). We also come across small hot springs which should help us relax for a while. Overnight at Chame.
Accommodation:
Tea House
Meal:
Breakfast, Lunch & Dinner
Day 06: Chame to Pisang (3,300m/10824ft): 5 - 6 hours
We walk through a steep and narrow valley to have our first view of Paungda Danda rock face, a dramatic curved rock face rising 1500m from the river. From here, we also gain excellent views of Annapurna 2 to the south and Pisang Peak to the north east. Next, we descend to the Manang Valley floor enjoying the captivating landscape. Overnight in Pisang.
Included meals:Breakfast Lunch Dinner
Accommodation:
Tea House
Meal:
Breakfast, Lunch & Dinner
Day 07: Pisang to Manang (3,500m/11,482ft): 6 - 7 hours
From Pisang there are two routes to Manang. We choose the one which passes through Upper Pisang via Geru as it guarantees outstanding views of Mt. Annapurna, Pisang Peak, and others. As we walk near Manang the climate becomes more cold and dry. However, a short visit to Barge Monastery, the biggest monastery in the Manang District should cheer us up. Overnight at Manang.
Accommodation:
Tea House
Meal:
Breakfast, Lunch & Dinner
Day 08: Manang: Acclimatization day
n order to keep fit on the trails that follow, we keep ourselves busy today with a short hike to either Bhojo Gumba or Gangapurna Lake. If we have the energy, we can even hike to Vraga Village where we can visit the Himalayan Rescue Association which will give us some idea about Acute Mountain Sickness (AMS). Overnight in Manang.
Accommodation:
Tea House
Meal:
Breakfast, Lunch & Dinner
Day 10: Yak kharka to Thorang Phedi: (4420m/14501ft): 3-4 hours
It is an uphill walk to Thorang Phedi. After walking for some time we cross a suspension bridge and reach Ledar village. We ascend furthermore and pass through towering cliffs before reaching Thorang Phedi, the last village before Thorong La. On this trip we are rewarded with one of the best views of Mt. Gundang, Mt. Syagang, Thorung Peak and Mt. Khatungkan. Overnight in Thorang Phedi.
Accommodation:
Tea House
Meal:
Breakfast, Lunch & Dinner
Day 11: Trek to Thorong La (5416m/17764ft) to Muktinath (3,800/12,467ft) then drive to Jomsom: 7 - 8 hours trek, 1 hour drive
Crossing Thorong La pass, one of the highest passes in the world will be our ultimate objective today. We will be crossing the pass from east to west (Manang to Muktinath) which is the easiest and safest direction. We get up around three in the morning and walk up the mountain. When we finally make it to the top, we realize that our journey was worth it. We can take a few photos before heading to Muktinath Valley at the foot of the Thorong La pass. Next, drive to Jomsom a Himalayan village famous for its delicious apples. Overnight in Jomsom.
Accommodation:
Tea House
Meal:
Breakfast, Lunch & Dinner
Day 12: Fly from Jomsom to Pokhara: 25 minutes & Pokhara city sightseeing
Crossing Thorong La pass, one of the highest passes in the world will be our ultimate objective today. We will be crossing the pass from east to west Today we fly to Pokhara, the lake city in the earliest possible airplane. After checking-in at our hotel, we may take a rest or visit the Lakeside area in the vicinity of the Fewa Lake. Here, we can indulge in buying some souvenirs or sampling some local delicacies. Overnight in Pokhara.
Accommodation:
Tea House
Meal:
Breakfast, Lunch & Dinner
Day 13: Drive from Pokhara to Kathmandu: 5-6 hours
After breakfast, we say goodbye to the beautiful lake city of Pokhara and drive towards Kathmandu. After reaching Kathmandu we have the rest of the day off. There will also be a farewell dinner hosted by Himalayan Glacier in the evening to celebrate the successful completion of our journey.
Accommodation:
Tea House
Meal:
Breakfast, Lunch & Dinner
Day 14: Kathmandu free day
Today you have a full free day for your own ourposes, You could walk around Thamel market for shopping etc.
Accommodation:
N/A
Meal:
Breakfast
Trip Map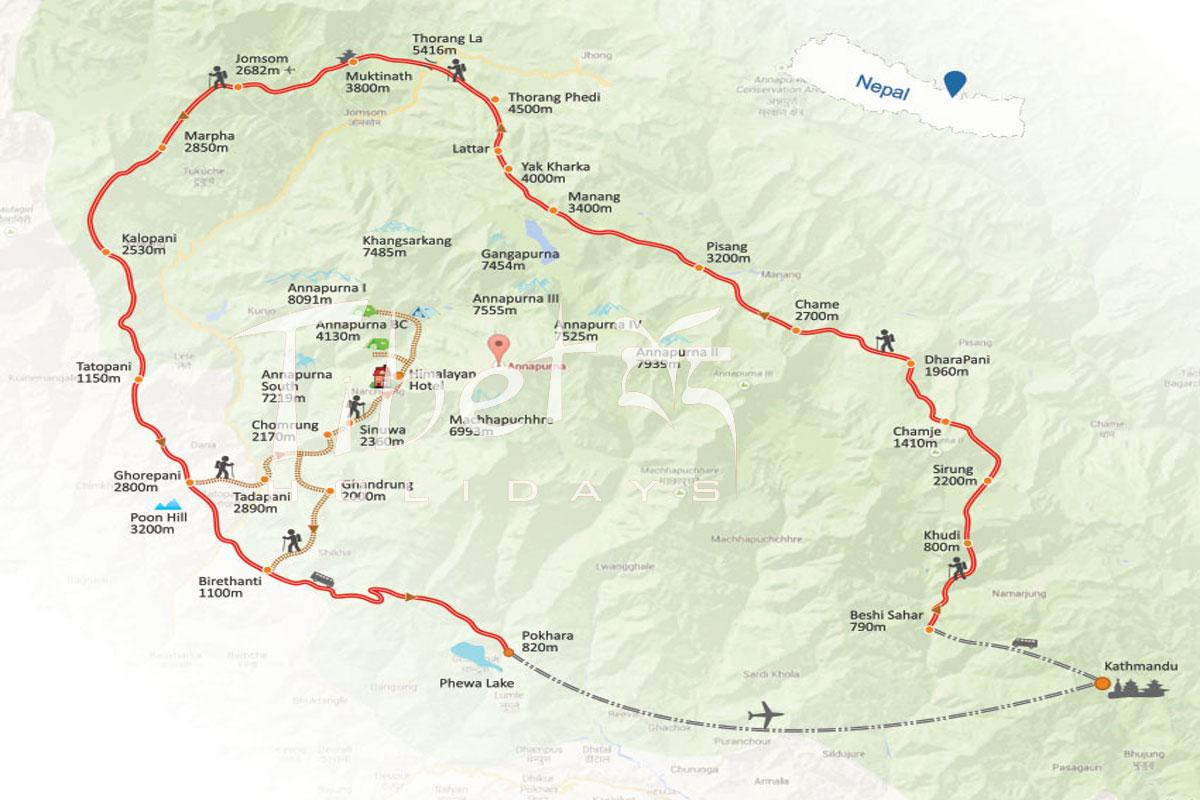 Trip Inclusion
What is included?
Airport pick ups and drops
Accommodations in 3 star hotels in Kathmandu and Pokhara; and teahouses during the trek
Breakfast in Kathmandu and Pokhara. All meals during the trek
Welcome and farewell dinners
Transportation on a comfortable private vehicle as per the itinerary
Domestict flight from Jomsom to Pokhara
Pokhara to Kathmandu Tourist coach
Guided city tour in Kathmandu by private vehicle
An experienced English-speaking trek leader (trekking guide), assistant trek leader (4 trekkers: 1 assistant guide) and Sherpa porters to carry luggage (2 trekkers: 1 porter) including their salary, insurance, equipment, flight, food and lodging
Down jacket, four seasonal sleeping bag, Tibet Holidays Trekking kit bag/duffel bag, t-shirt, trekking map (down jacket and sleeping bag are to be returned after trip completion)
All necessary paper work and permits (ACAP, TIMS)
A comprehensive medical kit
All government and local taxes
What is not included?
Nepalese visa fee
International airfare to and from Kathmandu
Excess baggage charges
Lunch and dinner in Kathmandu and Pokhara
Extra night accommodation in Kathmandu and Pokhara in case of early arrival, late departure, and early return from the mountain(due to any reason) than the scheduled itinerary
Airplane fare
Travel and rescue insurance
Personal expenses (phone calls, laundry, bar bills, battery recharge, extra porters, bottle or boiled water, shower etc)
Tips for guides and porters