Code TH-NP-003 • 11 Days •
Trip Duration: 11 Days
Group size: 1-20 Pax
Ends in: Kathmandu
Departure City: Kathmandu
Max Altitude: 4130m
Activities: Sightseeing/Trekking
Overview
Trip Information
Annapurna base camp or ABC Trek or MBC trek is one of the exciting trekking trail toward base of Annapurna. Attracting almost 70,000 trekkers a year, Annapurna base camp trekking is a unique experience for adventurers, beginners and also older citizen. Annapurna Base Camp (4,140m/13,582ft) is a small campsite surrounded by mighty mountains from all side, Machapuchhare (6,993m/22,943), Annapurna I (8091m/26505ft), and Hiunchuli (6,441m/21,131ft), respectively.
This is one of the most beautiful treks that combines easy walking with majestic scenery and a mix of cultures unmatched by any other treks in Nepal. The ethnic villages of Ghandruk and Chhomrung are the most intimidating villages trekkers encounter during the trek.
Accommodations
We will be staying at Hotel Marsyangdi in Kathmandu, Hotel Mt. Kailash in Pokhara and teahouses during the trek. All accommodations are on twin-shared basis.Single supplement will be served on request and will cost an additional USD 250 additional. Although single rooms are readily available in Kathmandu and the trekking regions at lower elevation, it might be difficult to find them at higher elevations.
Meals
During our Annapurna Base Camp Trek, we can enjoy authentic Nepalese food as well the more common international cuisine (Tibetan, Continental, Italian, Indian, etc.). Breakfast and dinner will be served from the tea-houses or from a lodge menu where we spend the night whereas lunch will be served on the way to the next destination. All meals will be provided during trekking while only breakfast will be available while in Kathmandu and Pokhara. There will also be welcome and farewell dinners for guests.
Physical Fitness for The Trek
This is moderate trek suitable for passionate walkers with the ability to walk at least 5-7 hours a day with a light day pack. Walking in higher altitudes is more physically demanding than walking in lower altitudes; however, if we are in excellent health with average physical fitness and have a positive attitude, self confidence and strong determination, we can accomplish this trek successfully. Exercising and jogging regularly for some weeks prior to the trip is a good idea to enhance our strength and stability. Past hiking experience would be an asset but no technical skill is required for this trip. Participants with pre-existing medical conditions such as heart, lung, and blood diseases are required to consult their doctor before taking the trip. It is also advised that you inform Himalayan Glacier about the medical condition before booking the trek.
Best Time to Travel
Autumn (Sept. to Nov.) and Spring (March to May) are the best seasons for the Annapurna Base Camp Trek. The weather is sunny and warm with outstanding views. If you wish to avoid crowds and enjoy some alone time with nature then taking this trip during winter (Dec., Jan. and Feb.) could also be an option. However, the temperature during winter could be harsh for most guests. Trekking in the Summer or Monsoon seasons (June to Aug.) will be affected by rain but the Summer trek could be a boon for a keen botanist.
Trip Start Dates and Cost
Check available trip start dates and cost for Annapurna Base Camp Trek. For any assistance pleace contact us.
Itinerary
Day 01: Arrival in Kathmandu (1,300m/4,264ft)
After arriving in Kathmandu, our representative will pick you up from the airport and take you to our hotel. Today we will have welcome dinner hosted by Tibet Holidays in order to introduce your guide and trip briefing.
Accommodation:
3 Star Hotel
Meal:
N/A
Day 02: Fly to Pokhara (827m/2,700ft), trek to Ghandruk (1940m/6360 ft): 30 minutes flight, 5 - 6 hours trek
We take an early morning flight to Pokhara, the beautiful lake city and catch great views of the Himalayas from the right side of our airplane. After landing in the Pokhara airport, we drive to Naya Pul (1 hour and 20 minutes) and start the trek. From Birethanti, we trek to Ghandruk, a beautiful village mostly inhabited by the Gurung community. If time permits, we also visit the Gurung museum today. Overnight in Ghandruk.
Accommodation:
Tea House
Meal:
Breakfast, Lunch & Dinner
Day 03: Trek to Chhomrong (2170m/7120ft): 5 - 6 hours
At this juncture, we climb up for around an hour up to Kimrungdanda. On the way, we can enjoy great views of Annapurna South, Hiunchuli, Fishtail Mountain (Machhapuchhre) and Ganggapurna. A steep descent takes us to the Kimrong Khola. After another steep ascent from Kimrong Khola to Chere Danda, we descend for a while and then it's a gentle walk to Chhomrong. Chhomrong is a beautiful village located on the lap of the giant Annapurna massive. Overnight in Chhomrong.
Accommodation:
Tea House
Meal:
Breakfast, Lunch & Dinner
Day 04: Trek to Bamboo (2310m/7578ft): 4 - 5 hours
We descend via 2500 stone steps and cross the bridge above Chhomrong Khola. From here it is an uphill climb to Sinuwa. Next, we pass through a beautiful forest to Kuldihar followed by an easy downhill walk to Bamboo. Overnight in Bamboo.
Accommodation:
Tea House
Meal:
Breakfast, Lunch & Dinner
Day 05: Trek to Deurali (3230m/10,595ft): 3 - 4 hours
We pass through a bamboo forest which is damp and cold then ascend steadily with a few steep sections. It is only after reaching Himalaya Hotel that the forest opens up and we are out in the sun again with astounding views of the glacial river below. It is a steep climb up through a much drier forest before reaching Hinku Cave. From here we can see the trail drop closer to the river before climbing again to Deurali, the most scenic stretch of the day. The vegetation is sparser, allowing magical views of the valley, the river below, and the sheer rock-face cliffs above with bands of wispy waterfalls. Overnight in Deurali.
Day 06: Trek to Annapurna Base Camp (4,130m/13,545ft) via Machhapuchhre Base Camp (3700m/12135ft): 5- 6 hours
Climb gently through a river bed then over a steep trail over to the mountain side. The hike from Bagar to Machhapuchhre Base Camp is somewhat strenuous. From Machhapuchhre base camp we get excellent views of the majestic Machhapuchhre along with Mt. Hiunchuli, Annapurna South, Annapurna I, Annapurna III, Gandharvachuli and Gangapurna which is certainly a rewarding experience. The vegetation disappears on our way to ABC and the path widens as we enter the Annapurna sanctuary. From here, we get sensational views of the near-vertical south face of Annapurna towering above us. The sanctuary boasts of a dynamic view without anything impeding the 360-degree panorama. From the base camp we again get to savor mesmerizing views of the Machhapuchhre, Annapurna South , Annapurna I, Hiunchuli and other peaks. Overnight at Annapurna Base Camp.
Accommodation:
Tea House
Meal:
Breakfast, Lunch & Dinner
Day 07: Trek to Bamboo: 7 – 8 hours
From the Annapurna base camp we retrace our steps to Bamboo. Today's trek is downhill, so it shouldn't be very difficult. Besides, we will always have the company of the extraordinary landscape to cheer us up. Overnight in Bamboo.
Accommodation:
Tea House
Meal:
Breakfast, Lunch & Dinner
Day 08: Trek to Jhinu Danda (1760m/5770 ft): 5 - 6 hours
From Bamboo, it is an uphill trek to Kuldighar followed by a downhill walk to Chhomrong Khola. Then we climb the stone steps to Chhomrong. The trail then descends to Jhinu Danda, where we will be resting for the night. Today we will have an opportunity to enjoy the hot springs which is just a 15-20 minute downhill walk from Jhinu Danda to soothe our aching body. Overnight in Jhinu Danda.
Accommodation:
Tea House
Meal:
Breakfast, Lunch & Dinner
Day 11: Drive to Kathmandu
We have 6 hrs drive by tourist bus today from Pokhara to Kathmandu. It is to explore the land scape by driving toward Kathmandu too. After arrival in Kathmandu you will be escorted to Hotel and you have free time to explore Thamel market and shopping. Evening farewell dinner will be hosted by Tibet Holidays in order to celebrate the successfull journey.
Accommodation:
3 Star Hotel
Meal:
Breakfast, Lunch & Dinner
Day 11: Final Departure
Today you are free until your flight reporting time, you will be dropped off to airport for final departure to your Home.
Accommodation:
N/A
Meal:
Breakfast
Trip Map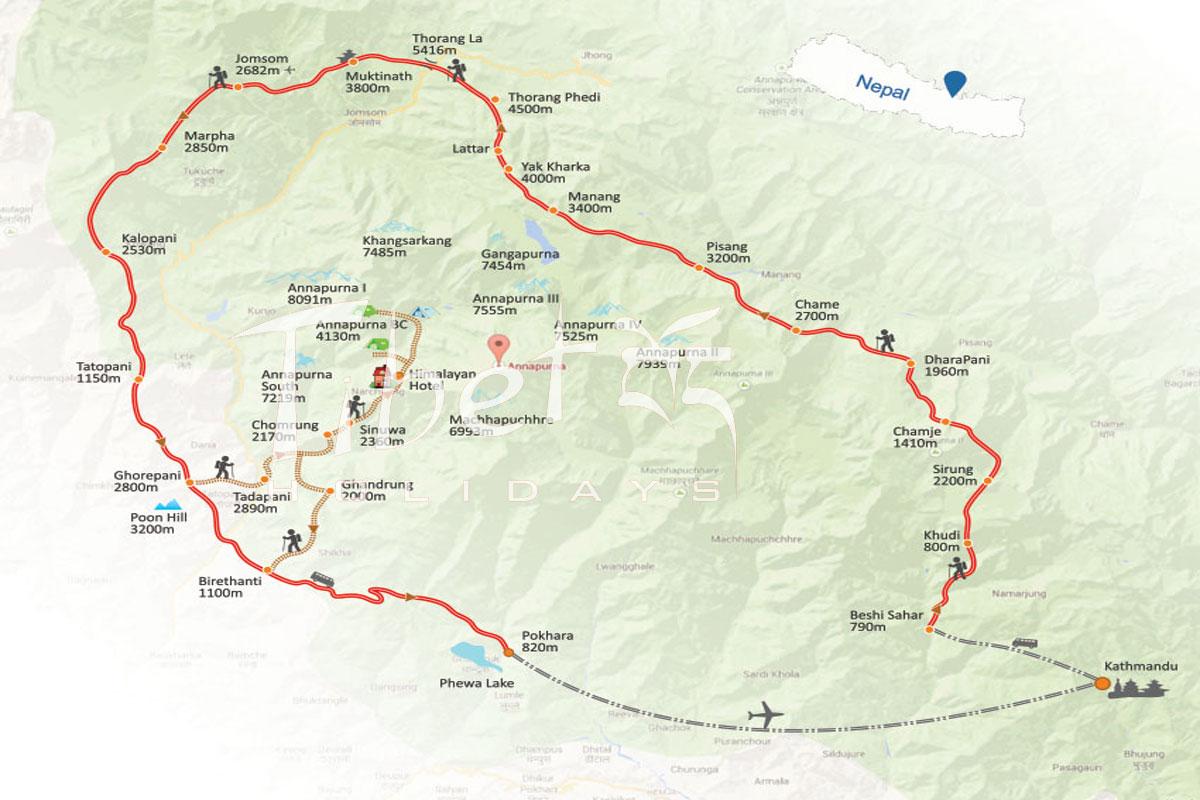 Trip Inclusion
What is included?
Airport pickups and drops in a private vehicle
3-star hotel accommodation in Kathmandu and Pokhara with breakfast
Teahouse accommodation during the trek
All meals (breakfast, lunch and dinner) during the trek
Welcome and farewell dinners
All ground transportation on a comfortable private vehicle as per the itinerary
Domestic flights (Kathmandu-Pokhara)
An experienced, English-speaking and government-licensed trek leader and assistant trek leader (4 trekkers: 1 assistant guide)
Porter service (2 trekkers: 1 porter)
Staff costs including their salary, insurance, equipment, food and accommodation
Complimentary jacket and sleeping bag (to be returned after trip completion)
Complimentary trekking bag/duffel bag.
All necessary paperwork and trekking permits (ACAP, TIMS)
Pokhara to Kathmandu Tourist Bus
Medical kit (carried by your trek leader)
All government and local taxes
What is not included?
Nepal visa
International airfare to and from Kathmandu
Excess baggage charges
Lunch and dinner in Kathmandu and/or Pokhara
Extra night accommodation in Kathmandu and Pokhara in case of early arrival, late departure, and early return from the mountain(due to any reason) than the scheduled itinerary
Travel and rescue insurance
Personal expenses (phone calls, laundry, bar bills, battery recharge, extra porters, bottle or boiled water, shower, etc.)
Tips for guide(s), porter(s) and driver(s)