Lhasa Palden Lhamo Festival Tour
Lhasa Palden Lhamo Festival Tour
Best price guaranteed
Cancellation protected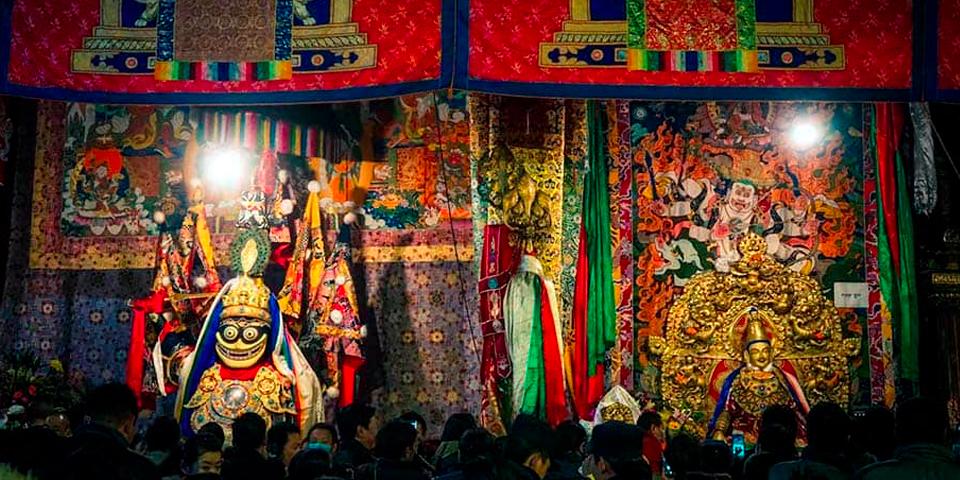 Fairy's Day is marked on the 15th day of the 10th month in Tibetan Lunar Calendar, which falls on November 27th this year. It is a day to worship Palden Lhamo, the protector deity of Jokhang Temple and also of the women who can bring them happiness and beauty. As a result, the day is also seen as women's day in Tibet.
Legend says that Palden Lhamo was invited to be the protector deity at Jokhang Temple by Tibetan King Songtsen Gampo. In Tibetan Buddhism, the goddess manifests in different incarnations, and Palden Lhamo appears with a wrathful black frog's face, whose appearance can frighten demons everywhere. The statue of the goddess is carried out of Jokhang Temple and paraded through Lhasa, where it is finally brought to the southern bank of the Lhasa River. There is a temple on the other side of the river that commemorates the ancient general Tri Dzongtsan, the goddess' lover. The statue of Palden Lhamo is brought to the river so that she and her lover can gaze at each other and be reunited.
Because of this legend, every year on this day, the women of Lhasa put on their best clothes and jewelry, rise early to go to the Jokhang Temple, and worship the frog-faced goddess. They will also drink highland barley wine and sing and dance to celebrate the festival. A special custom of this day is that women can ask money from men at home or on the street in order to receive blessings.
Besides taking part in Palden Lhamo ceremony you will visit most of the popular sights in central Tibet such as Sightseeing of Lhasa, Gyantse, Shigatse and also the tour covers exploration of Mt. Everest Base Camp north.
Trip Map
Altitude Map