Annapurna View Poon Hill Trek
Annapurna View Poon Hill Trek
Best price guaranteed
Cancellation protected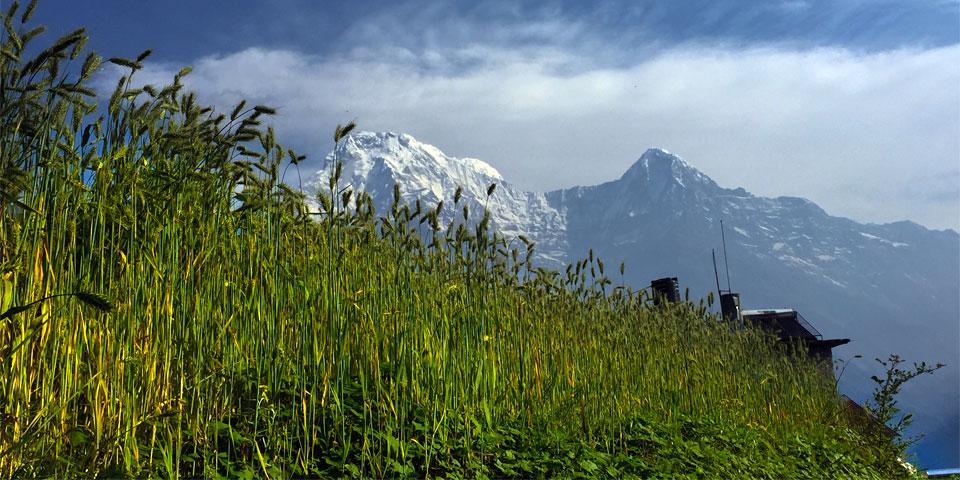 Annapurna View Poon Hill Trek, Gorepani Poon Hill Trek is short and easy but equally romantic trekking in Annapurna region. You will get the chance to see Annapurna, Dhaulagiri and other several white capped peaks in front of your eyes. This panoramic glimpse of snowy peaks can easily touch the heart of Mountains and nature's lover. Annapurna balcony trekking is the best trekking route for the old and physically weak people which bring closer to the mountain peaks. Moreover this is also the best trekking route for those who want to accompany their kids with them. Move out to the mountains of Annapurna and take your time in the villages with charming smile of its inhabitants.
In recent years, the number of trekkers to the Sanctuary has increased substantially, in part because the Sanctuary forms the base of one of the major routes to the peaks of the Annapurna range. The Annapurna Sanctuary is now part of the Annapurna Conservation Area Project (ACAP), which places restrictions on number of outside travelers, gathering of firewood, and domestic animal grazing.
Accommodations
We will be staying at Hotel Marsyangdi in Kathmandu, Hotel Mt. Kailash in Pokhara and teahouses during the trek. All accommodations are on twin-shared basis.Single supplement will be served on request and will cost an additional USD 250 additional. Although single rooms are readily available in Kathmandu and the trekking regions at lower elevation, it might be difficult to find them at higher elevations.
Meals
During our Annapurna Base Camp Trek, we can enjoy authentic Nepalese food as well the more common international cuisine (Tibetan, Continental, Italian, Indian, etc.). Breakfast and dinner will be served from the tea-houses or from a lodge menu where we spend the night whereas lunch will be served on the way to the next destination. All meals will be provided during trekking while only breakfast will be available while in Kathmandu and Pokhara. There will also be welcome and farewell dinners for guests.
Physical Fitness for The Trek
This is moderate trek suitable for passionate walkers with the ability to walk at least 5-7 hours a day with a light day pack. Walking in higher altitudes is more physically demanding than walking in lower altitudes; however, if we are in excellent health with average physical fitness and have a positive attitude, self confidence and strong determination, we can accomplish this trek successfully. Exercising and jogging regularly for some weeks prior to the trip is a good idea to enhance our strength and stability. Past hiking experience would be an asset but no technical skill is required for this trip. Participants with pre-existing medical conditions such as heart, lung, and blood diseases are required to consult their doctor before taking the trip. It is also advised that you inform Tibet Holidays team about the medical condition before booking the trek.
Travel Insurance
It is a condition upon joining any of Tibet Holidays trips that all clients be insured for comprehensive expenses that might incur due to medical issues or accidents (this includes air ambulance, helicopter rescue, and treatment costs). Please note that we don't arrange or sell insurance.
Acclimatization
This trek's itinerary is planned with a high degree of awareness of AMS (Acute Mountain Sickness). Going up at higher altitudes too fast causes a medical condition serious enough to result in death. The higher the altitude, the less oxygen will be in the air. For example, at an altitude above of 5000 m, there is 50% less oxygen than at sea level. Therefore, our body needs many days to adapt to an environment with less oxygen. This trip progresses with gradual ascent and does not reach a very high altitude; therefore, it is also an easy trek.
Best Time to Travel
Autumn (Sept. to Nov.) and Spring (March to May) are the best seasons for the Annapurna Base Camp Trek. The weather is sunny and warm with outstanding views. If you wish to avoid crowds and enjoy some alone time with nature then taking this trip during winter (Dec., Jan. and Feb.) could also be an option. However, the temperature during winter could be harsh for most guests. Trekking in the Summer or Monsoon seasons (June to Aug.) will be affected by rain but the Summer trek could be a boon for a keen botanist.
Trip Start Dates and Cost
Check available trip start dates and cost for Annapurna Base Camp Trek. For any assistance pleace contact us.
Trip Map
Altitude Map