Phaplu to Everest Base Camp
Phaplu to Everest Base Camp
Code TH-NP-004 • 19 Days •
Trip Duration: 17 Nights / 18 Days
Group size: 1 - 20 Pax
Ends in: Kathmandu
Departure City: Kathmandu
Max Altitude: 5545m
Activities: Sightseeing / Hiking / Trekking
Overview
Trip Information
The Phaplu Everest Base Camp trek starts with an exhilarating 9/10 hours scenic drive into the small local town Phaplu; a small town in Solukhumbu district. You trek over gentle ascent path all the way to Takshindo Gompa and descending from here you reach Manidingma (Nunthala). There is an old cheese factory at Takshindo. The trek gently descend to the Dudh Koshi River passing through agricultural farming land and small Sherpa and Rai settlements. While trekking you will visit Buddhist Monastery in ruin state through rhododendron and oak forest.
You would be able to see excellent views of mountains such as Numbu (6960m.), Cho-oyu (8201m.), Gyangchung Kang (7922m.) and Thamserku (6629m.). You will pass Surkey, a small Sherpa village at the bottom of Lukla. From Lukla you will follow the Dudhakoshi River upwards to the Sherpa capital of Namche Bazaar. It is not long before you glimpse your first view of Everest as it peaks above the Lhotse-Nuptse ridge.
Overnight halt:
Accomodation in Everest region is now well maintained with clean room, hot and cold water showe somewhere available private bath in the lower part and also almost every where along the way to Everest base camp every guest houses has free wifi facility. In Namche there is now star level fancy hotels has been built. Rest you could enjoy with well maintained Guest Houses.
Meal Plan:
Now almost everywhere along the way to Everest Base Camp, You could find variety of western, continental and Tibetan food. All guest house has menu basis restaurant and every trekker could order their food by choosing menu items. there is some guesthouse and hotel in Namche where you could find buffet system breakfast and food.
Flight and Baggage Restriction:
Flight to Lukla is the gate way to take Everest Base Camp Trek, It is a small aircraft twin otter, 16 Passerger in one flight. It is a mountain flight to Lukla. As it is a small aircraft there is only limited baggage is allowed. Max 12 Kg baggage and Max. 6 Kg handbag is allowed for Kathmandu to Lukla flight.
Physical Fitness & Trekking Experience:
There is no specific physical fitness is required everyone could take the trip but it is essential to be in good health as you are trekking up to 5500m. People who have longs and heart and blood deseases must consult their doctor before taking part in the trip.
Packing List:
The packing list has been created with the objective of getting maximum comfort with minimum possible weight. Please bring only what is necessary, as this will be helpful to you and the field staff.
Daypack
Duffel bag for storing gear(s) (if not weatherproof, bring lg. plastic bags)
Warm sleeping bag (negative 8-10 degrees centigrade)
SM first aid kit (blister kit with specifically 2nd skin, aspirin &/or ibu, cough drops, tape)
Headlamp
Camera and extra batteries
2-liter water bottles (if you bring a camelback, bring a nalgene, also)
Water purification tablets (iodine or chlorine to carry in daypack)
Insulated drinking mug
Lightweight toiletries (travel size shampoo, soap is best for trekking)
Sunscreen and lip screen
Small towel
Suggested clothing list
Down parka, Gore-Tex shell and pants, Warm fleece jacket, Comfy trekking boots (we like lowa), Lightweight shoes, 4 pair of trekking socks, 2 long sleeve capilene shirts, 2 capilene bottoms (mid and heavy weight), 2 trekking shirts (non-cotton is best), Trekking pants (zip off shorts are better), 1 pair of shorts, 1 bandana, 1 pair of winter gloves (ie: ski), 1 pair of lightweight gloves (ie: fleece), Flip flops, Warm hat, Sun hat, 2 pairs of sunglasses
Miscellaneous Items
Anti bacterial wipes or lotion (for face and hands), 10 or so energy bars (we do provide 3 meals per day on the trek!), Prescription medications, Over the counter drugs for diarrhea, headaches and cold
Itinerary
Arrival in Kathmandu (1,300m/4,264ft)
After arriving in Kathmandu, our representative will pick you up from the airport and take you to our hotel. Today we will have welcome dinner hosted by Tibet Holidays in order to introduce your guide and trip briefing.
Accommodation:
Hotel Holy Himalaya
Meal:
N/A
Dau 02: Kathmandu city sightseeing and trip preparation and briefing.
Today you will have sightseeing of all world heritage sites in Kathmandu such as Swoyambhunath (Monkey temple), Darbar Square with Kumari (The living goddess) House, Patan, Pashupatinath and Bouddhanath. Evening we will have short briefing program and prepare your check list for the trip.
Accommodation:
Holy Himalaya
Meal:
Breakfast
Day 03: Drive to Phaplu (10 Hours (2600m) by Jeep
After breakfast you will have a beutifull countryside drive to Phaplu. Phaplu is small local town dominated by Sherpa people. There is some portion the road is not paved and a bit bumpy somewhere. You will have beutiful scenery along the way including exploring typical Nepalese villages. The road follows through the banks of Bhotekoshi river some portion and mostly hilly road. It is one of the fantastic driving.
Accommodation:
Guest House
Meal:
Breakfast, Lunch & Dinner
Day 04: Trek from Phaplu to Nunthala (6/7 hour walking (2330m)
Today we have trekking towad Nunthala, the trail follows with ups and down through the Sherpa and Rai's local shettlement.
Accommodation:
Tea House
Meal:
Breakfast, Lunch & Dinner
Day 05: Trek from Nunthala to Bupsa (8 hours walking (2070m)
After having breakfast at lodge, we start our trek and from Nunthala the descent continues to the Dudh Koshi River at 1480m and crosses it to follow the other bank, most of the trail is well defined, although it sometimes meanders through terraced fields and yards of houses, it then descends steeply through forests to a Chautara (resting place) overlooking the river. Follow the river for a while through forests then climb through terraces to reach the Rai village of Jubing (1667m), climb through the village around a ridge and aim for the prominent notch in front of you, from this notch continue to the village of Khari Khola (2004m) and onwards up the steep hill to Bupsa danda.
Accommodation:
Tea House
Meal:
Breakfast, Lunch & Dinner
Day 06: Trek from Bupsa to to Puiyan (5/6 Hours (2796m)
After having breakfast at lodge, we start our trek and the trail ascends from Bupsa and on to Bhumsing, (2300m) then it continues to climb through a tributary valley filled with prickly leaned oak and rhododendron forest, where languor monkeys may occasionally be seen, descend (305m) and cross the next tributary after one hour, continue on the north side of the valley to reach Puiyan (2796m). Overnight at Guesthouse.
Day 07: Trek from Puiyan to Phakding (6/7 hours / 2750m)
After having breakfast at lodge, we start our trek and the trail climbs for about an hour after Puiyan to the ridge at 2800m, followed by another ridge, the trail descends to Sukhe (Buwa) at 2293m, situated on a tributary of the Dudh koshi, the trail remains above the village encircling it, the village of Surkhe, at the bridge crossing the tributary below, is 2 hrs from Puiyan, The trail now leaves this tributary valley and heads more directly north towards Chaurikharka, another dispersed village, before ascending to Chaurikharka (2713m) the main trail crosses a spectacular deep gorge with a high waterfall (2408m), overnight at Guesthouse.
Accommodation:
Guest House
Meal:
Breakfast, Lunch & Dinner
Day 08: Trek from Phakding to Namche Bazaar (3 hours / 3440m)
After having breakfast at lodge, we start our trek and continue trekking following the Dudh Koshi River and crossing it many times on the way, we enter the park in Jorsale. We will stop here for lunch as we rest our weary bones; and again we continue our trek; after few hours of walking we reach the bustling Namche Bazaar which appears ahead as we travel along a path surrounded by pines, we pass the plateau where the Saturday bazaar is held.
Accommodation:
Hotel
Meal:
Breakfast, Lunch & Dinner
Day 09: Acclimatization day in Namche Bazaar (3440m)
Today is a day for rest & chilling out at Namche Bazaar (3440m) this is real good for our acclimatization. It prevents any unforeseen altitude problems ahead on the trail as we go to higher altitudes on the trek, overnight at Hotel.
Accommodation:
Hotel
Meal:
Breakfast, Lunch & Dinner
Day 10: Trek from Namche Bazaar to Tengboche (5 hours / 3867m)
Day 09: Trek from Namche Bazaar to Tengboche (B, L, D):
After breakfast in Namche, we start our trek towards Tengboche enjoying superb views of Mt. Everest, Nuptse, Lhotse, Ama Dablam and close up views of Thamserku, our trek follows on the gradual trail with few ups and downs overlooking magnificent views of the great Himalaya, along the way we can spot wild animals like pheasant, musk deer, or a herd of Himalayan Thar, The trail goes gradually down up to Kayangjuma. The path eventually reaches Sanasa which is the major trail junction to Gokyo valley and Everest Base Camp. The track then follows through the pine forests and after we cross the prayer flags festooned bridge over Dudh Koshi River, we reach Phunki Thenga, a small settlement with a couple of teahouses and a small army post amidst the alpine woods, after having a relaxed lunch at Phunki Thenga we then have a little tough climb steep up through the pine forests before we reach Tengboche. Tengboche is a great place for close up views of Ama-Dablam, Nuptse, and Everest and it has the biggest Buddhist Monastery all over in the Khumbu region, overnight stay at our guest house in Tengboche.
Accommodation:
Tea House
Meal:
Breakfast, Lunch & Dinner
Day 11: Trek from Tengboche to Dingboche (6/7 hours / 4300m)
We start our trek after having breakfast at lodge by descending through Rhododendron forest to the Imja Khola and cross an exciting suspension bridge on the Imja Khola and walk passing by a long Mani stone wall to enter the village of Pangboche, our route continues through green summer pastures to Dingboche, overnight at Guesthouse.
Accommodation:
Tea House
Meal:
Breakfast, Lunch & Dinner
Day 12: Trek from Dingboche to Lobuche (6/7 hours / 4930m)
We start our trek after having breakfast at lodge and the onward Himalayan journey leads us north for up to 50-minutes until we come to a mani-prayer Stupa; then the trail gets gentle as we look down to Pheriche village below, today's walk offers views of the Mt. Tawache, Ama Dablam and to the north-Pokalde (5741m) Kongma-tse (5820m) and the great wall of Nuptse, after two hours of walking, the trail from Pheriche joins near Dughla (4595m) before a small wooden bridge over the river of Khumbu glacier, then we continue for an hour up a steep hill to the top, where there are views of Mt. Pumori and other peaks west of Everest, after a short break, we continue trekking up to Lobuche and overnight at Guesthouse.
Day 13: Trek from Lobuche to Everest Base Camp via Gorakshep (8 hours / 5300m)
After having breakfast at lodge, we start our trek by following the rocky moraine path, view icy glacial pond and icebergs down below of the Khumbu glacier, after the last rocky moraine dunes, a short downhill walk brings us to Gorakshep, where we will stop for lunch and we leave all our stuff there at the lodge as this is the last place where there lodges are available – then we start our Himalayan journey to the Everest Base camp - WOW!!! Congratulations!!! This is why you hiked up all the way; your dream comes true now, after spending sometime in the Base Camp we return to Gorakshep for the night, it's been a wonderful day after all, overnight at Guest house.
Accommodation:
Tea House
Meal:
Breakfast, Lunch & Dinner
Day 14: Trek from Gorakshep to Kala Pattharand trek to Pheriche (7 hours / 5545m)
Quite Early morning, we climb to Kala Patthar (5545m.) peak to enjoy the view of sunrise, and from Kala Patthar, we can have a panoramic view of Mt. Everest and many other mountain peaks like Mt. Pumori, Mt. Lingtren, Mt. Khumbetse, Mt. Nuptse, Mt. Lhotse, Mt. Ama Dablam, Mt. Thamserku and many more, after seeing the sunrise over those Himalayas, we trek down to Gorekshep and have breakfast and start trekking down to Pheriche, it is easy trekking down, overnight at lodge.
Accommodation:
Tea House
Meal:
Breakfast, Lunch & Dinner
Day 15: Trek from Pheriche to Namche Bazaar (6/7 hours / 3440m)
After having breakfast at lodge, we start our trek and now, we are trekking back to Namche Bazaar, an easier descent trekking passing through rhododendron forest, Tengbuche is a small village with a famous monastery offering you the splendid view of Ama Dablam, green hills and river views where we stopped for lunch then we will trek back to Namche, overnight at Lodge.
Day 16: Trek from Namche Bazaar to Lukla (5/6 hours / 2886m)
After having breakfast at lodge, we start our trek and today is the last day of our adventure Everest base camp trek and the trekking is pleasant, except for few short uphill climbs and then down to the Bhote-Koshi River crossing it few time and the last uphill climb of 45 minutes will bring us to Lukla, check in to the lodge, overnight at Lodge.
Accommodation:
Guest House
Meal:
Breakfast, Lunch & Dinner
Day 17: Fly from Lukla to Kathmandu (35m flight / 1300m) and transfer to hotel
We will an early breakfast and walk to Lukla airport and take flight back to Kathmandu, transfer to hotel in Kathmandu, your day is free and overnight at hotel.
Accommodation:
Holy Himalaya
Meal:
Breakfast & Dinner
Day 18: Kathmandu Free Day
It's also spare day in case of bad weather in Lukla if we could not fly on scheduled date and time, or we can organize you a day tour in or around Kathmandu, shopping tour etc if you want: or we can remove this extra day from the tour itinerary if you do not want so, contact us and consult about options available for the day, overnight at hotel.
Accommodation:
Holy Himalaya
Meal:
Breakfast
Day 19: Final Departure
Free until your airport reporting time after that Tibet Holidys representative will drop you at airport for final departure to your home.
Accommodation:
N/A
Meal:
Breakfast
Trip Map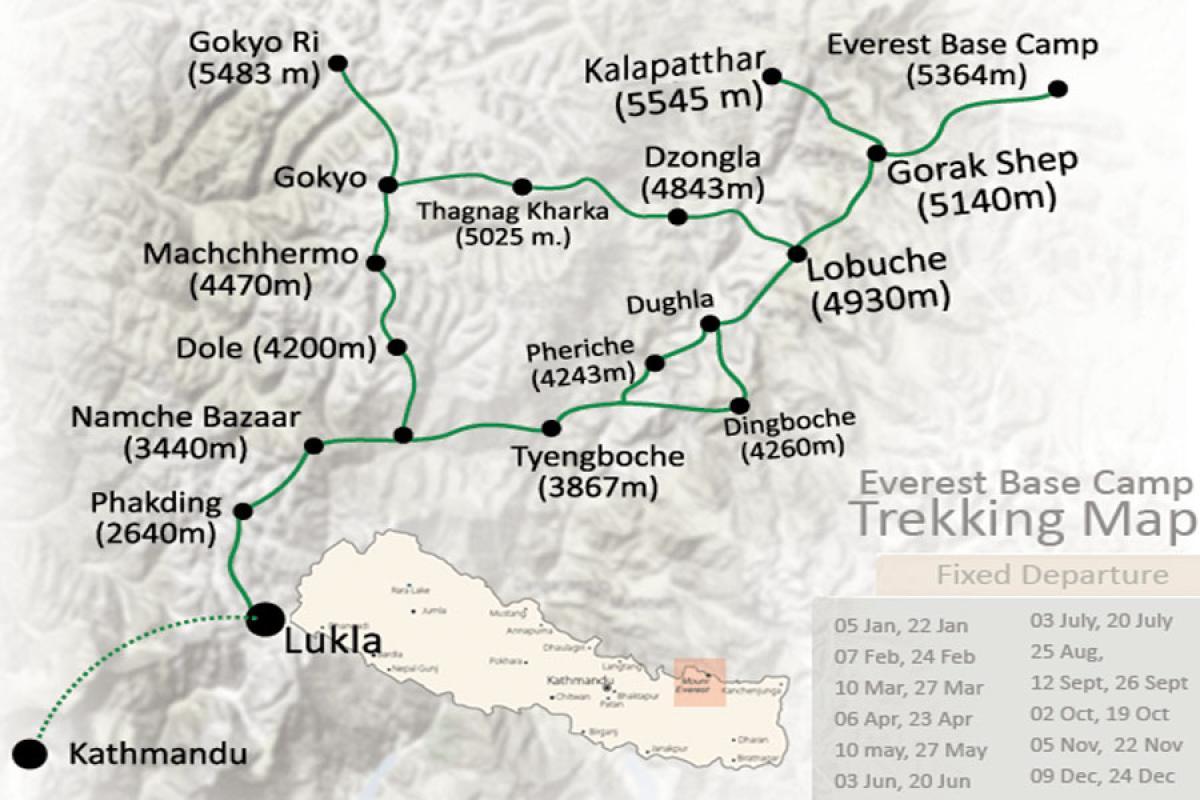 Trip Inclusion
What is included?
Arrival/Departure airport transfer
Kathmandu guided sightseeing tour
Kathmandu to Phaplu by Jeep
3 Nights Twin Sharing basis deluxe accomodation with breakfast in Kathmandu
Lukla - Kathmandu flight fare
English speaking license holder trekking guide
1 porter between 2 trekker basis
All guesthouse / tea house stay during trekking
3 times meal (Breakfast + Lunch + Dinner)
Necessary Trekking and Everest National park permit
Wages, insurance and other expenses for guide and porters
Complimentary Jacket and Trekking pole
What is not included?
Lunch and dinner while in Kathmandu
All Monument entrance fee while Kathmandu sightseeing tour
Access baggage charge (It is allowed 15kg baggage + 5kg handbag)
Travel insurance client
Emmergency Evacuation Cost